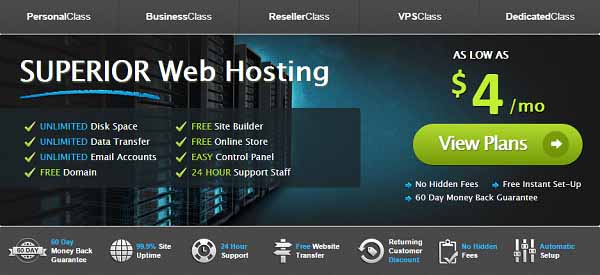 Arvixe is one of the more popular web hosts today. Arvixe was founded by Arvand Sabetian in 2003, and 10+ years online for any business is no joke. It is located in San Luis Obispo, CA, and they have data centers in North America (Dallas, US), Europe (Amsterdam) and Asia (Hong Kong).
General Impression
Arvixe is a webhosting provider set up in 2003 in San Luis Obispo, CA, as a privately held liability corporation. Arvixe is offering hosting services for a range of websites, from personal pages until enterprise websites (with specific plans for each category). Also, the type of harvixeosting services varies as follows: budget, blog, CMS, shopping cart, video sharing software, forum and social network and community websites.
With a team of experienced professionals, Arvixe stands for a company culture that preserves the employees initiatives and a strong management. The Company's mission is to fulfill the needs of every customer in terms of their specific requests, their expertise or location.
Arvixe strives to offer high quality services at lowest prices possible and to constantly grow as a company.
Price & Cost
Arvixe offers 5 different plans, according to the target customer and its needs, as follows: PersonalClass, BusinessClass, ResellerClass, VPSClass and DedicatedClass. In this order, the prices as well as the features included increase for the customers. However, Arvixe is well known by its quality services at affordable prices and has been awarded as one of the fastest hosting providers in the whole world and received the first prize for the best affordable hosting companies in 2012. Taking for example the personal class and compare it with the similar plan of the main industry competitors, the conclusion is that Arvixe offers the lowest prices for this segment.
Price ($/month) Arvixe, HostGator Coupon, iPage and GoDaddy
Regularly One year plan 4.00 5.56 (Hatchling Plan) 8.49 (Essential Plan) 5.99 (Economy Plan)
Payment types
The acceptable payment types are the following: Credit card (Visa, MasterCard, Discover, American Express), Paypal or Skrill.
Reliability
Arvixe has over 10 years of webhosting experience, striving to be one of the fastest and cheapest firms in the industry. The Company makes sure to offer high quality services by assuring no loss of service in case a router goes down, it has cross-connection between data centers, thus if a connection becomes unavailable, traffic is re-routed to another available connection. Also, Arvixe is optimizing its speed and performance as many times as necessary. Moreover, the Company is working with well-known Tier 1 providers such as: AT&T, AboveNet, NTT, Savvis, Global Crossing, Lever 3 and Time Warner Telecom. During its activity, Arvixe received several awards for its outstanding services, as follows: 157th fastest growing private sector company in US and 10th fastest growing company in IT during 2008-2011 (2,154% growth) by Inc Magasine
From the customers' perspective, they seem entirely satisfied with Arvixe's high quality services versus its low prices. Based on the Surveys conducted by the Company, the customers' average satisfaction reaches 8.6 and 93.26% of them would recommend Arvixe