An extremely attractive opportunity for you to experience the VPS service of the famous provider DigitalOcean.

DigitalOcean partnered with CodeAnyWhere, which launches a free $ 25 coupon code for all new accounts at CodeAnyWhere. Combined with the $ 10 you get when signing up through your referral link, you will total $ 35 free to try VPS within 7 months.
Sign up for a free $ 20 coupon from DigitalOcean
To receive a free $ 20 coupon from DigitalOcean from codeanywhere, you need to sign up for a new account at codeanywhere via this link. Registration is simple, just enter your email address, password, check box I'm not a robot and then click Register to complete.
After you click Register, you will be notified of the successful registration and will be redirected to a new page with the Connection Wizard. Notice that the last menu in this window is DigitalOcean, click on this menu to get to the coupon page.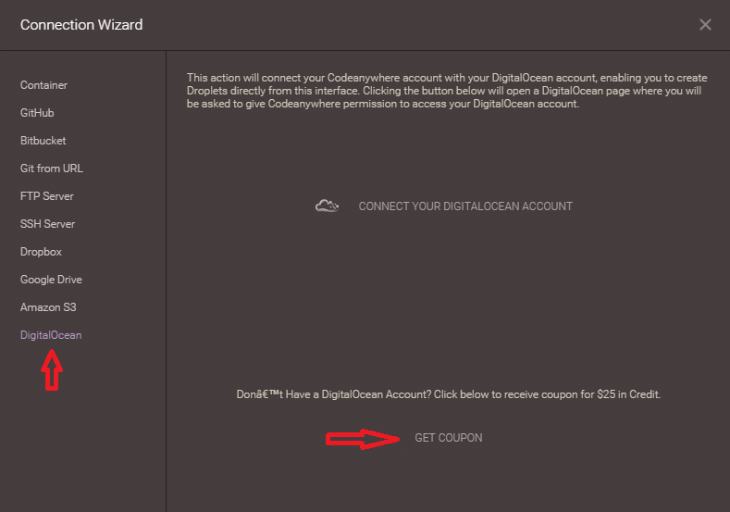 Finally, click the Get DigitalOcean Coupon button so the coupon will appear. You use this coupon to get $ 25 free to your DigitalOcean account.
Now to get another $ 10, you just use this link to register your account at DigitalOcean.
Please note that this coupon is only available for new accounts on DigitalOcean, meaning that the account has never used a coupon before.
If you sign up for a new account, you must fill in your VISA card or get $ 5 with PayPal to get $ 35 free. You should not register multiple accounts on DigitalOcean because them will be deleted all.