Godaddy, Stablehost and Hawkhost are the three hosting providers you recommend for newbies. For a variety of reasons, you can find out in the article: Top 10 Best Web Hosting Companies.

In this article I will guide you to buy Web Hosting on Godaddy, you can choose other hosting providers which hosting depending on your needs of use.
Quick introduction of Some Hosting providers
Newcomers or limited budgets: Choose Godaddy $ 12 / year
Medium Budget Websites Make More Websites: Choose Stablehost ($ 24 / year), used for website development overseas. May be paid on a monthly basis, but not as good as the year.
Higher Budget: Choose Hawkhost ($ 28/year). May be paid on a monthly basis, but not as good as the year.
Note: To buy hosting you must have a VISA card for international payment or use Paypal.
#1. Guide to buy Hosting on Godaddy
Godaddy is a well-known domain name and hosting provider, with a normal server system, but with cheap price compared to other Hosting providers, good support for WordPress, Alot tools are available, so this provider has attracted quite a large number of customers.
In this post I will show you how to buy the cheapest hosting package Godaddy ($ 12/year for just $ 1 per month). You will follow these steps :
1 WordPress hosting (basic type), 1 year
1 free domain
1 year Microsoft Office 365 service
Fisrt, you must have a Godaddy Coupon Codes in here:
Domain Registration, Transfer and Renewal
33% Off Renewal Save 33% Off Domain Renewal, Applies to .COM,. NET, .ORG, .INFO, .CA, .IN and .CO.UK
Save 20% Off 20% Off Domain Registration
Save 20% Off Register new domain name .com only $8.99.
Domain Transfer Domain Transfer .COM for only $7.99, .NET domain for only $8.99
Promotion Web Hosting
Save 50% Off 50% Off all Web Hosting Plans
$1.00 Only Only $1/month for Web Hosting + Free domain
$1.00 Only Only $1/month for WordPress Hosting + Free domain
Promotion of other services
Save 40% Off Get 40% off all orders
Save 33% Off Get 33% off all orders
Save 30% Off Get 30% off all orders
Then, you visit Godaddy offical website. And choose a  web hosting packages of Godaddy.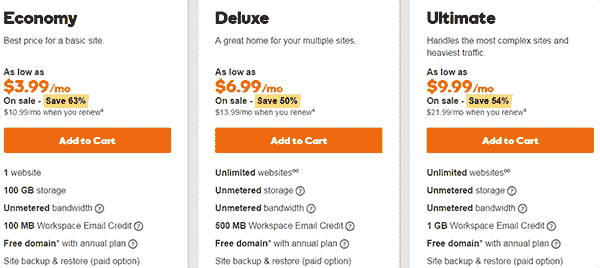 After adding a Economy package to your shopping cart, Godaddy asks you about additional services, do not tick any more and just press NEXT.
To add the domain, you can select a free domain, find the desired domain name and click Select and continue: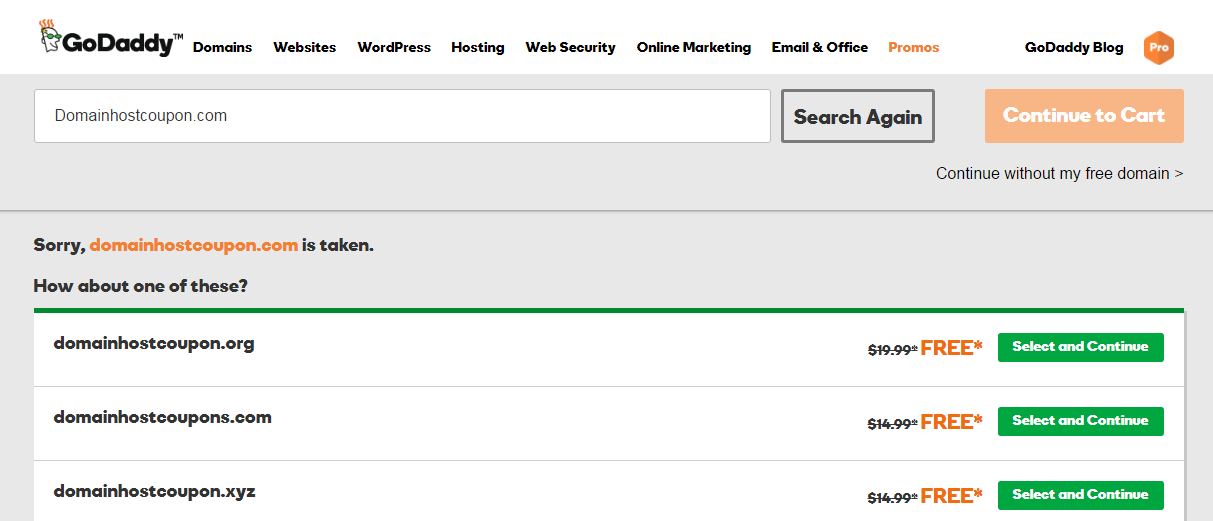 On next page, you select "12 months Package" at $12,18.
You will be sent through the payment information page, you fill all your information to the form.
The username below the email address is the username
The PIN is any four digit number, but can not be 4 consecutive or 4 similar numbers.
If payment by VISA card, card number, card name or card expiration date is printed on your card, the security code is 3 digits after the card.
Then, You must agree with the terms of Godaddy Renewal Promo Code and click Order.
If you use VISA, payment will be completed immediately. If you are using Paypal, you must login Paypal to accept order.