Dedicated Servers Service from just €111.98/mo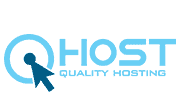 Coupon Details
QHost.mk best products are on sale right now! Don't wait any longer. Starting from just €111.98/mo on Dedicated Servers Packages
DELL 2x Xeon® E5645 / 32 RAM / 1 TB SAS:
– 6/12 CPU Cores
– 32 GB RAM ECC
– 1000 GB SAS
– Unlimited Transfer
– 1 Dedicated IP
– 99% UpTime
– 1Gbps shared port
– 24/48ч Activation
DELL 2x Xeon® E5645 / 32 RAM / 250 SSD:
– 12/24 CPU Cores/Тhreads
– 32 GB RAM ECC
– 250 SSD
– Unlimited Transfer
– 1 Dedicated IP
– 99% UpTime
– 1Gbps shared port
– 24/48ч Activation
DELL 2x Xeon® E5645 / 64 RAM / 250 SSD + 1 TB SAS:
– 12/24 CPU Cores/Threads
– 64 GB RAM ECC
– 1 TB SAS + 250 SSD
– Unlimited Transfer
– 1 Dedicated IP
– 99% UpTime
– 1Gbps shared port
– 24/48ч Activation
2 x Xeon® E5-2650L v2 / 32 GB RAM / 1 TB HDD:
– 20/40 CPU Cores
– 32 GB RAM ECC
– 1 TB HDD
– Unlimited Transfer
– 1 Dedicated IP
– 99% UpTime
– 1Gbps Shared port
– 24/48ч Activation
2 x Xeon® E5-2650L v2 /32 GB RAM / 500 GB SSD:
– 20/40 CPU Cores
– 32 GB RAM ECC
– 500 GB SSD
– Unlimited Transfer
– 1 Dedicated IP
– 99% UpTime
– 1 Gbps shared port
– 24/48ч Activation
2 x Xeon® E5-2650L v2 / 64 GB RAM / 1 TB HDD + 500 GB SSD:
– 20/40 CPU Cores
– 64 GB RAM ECC
– 1 TB HDD + 500 GB SSD
– Unlimited Transfer
– 1 Dedicated IP
– 99% UpTime
– 1Gbps Shared port
– 24/48ч Activation
Top 20 Highlights Coupons and Promo Codes!
GestionDBI Coupon: Starting from $1.20/mo on Web Hosting Service
Use this best deals and save money at GestionDBI. Amazing save is applied for you. Get Web Hosting Service Starting from $1.20/mo. WEB-Mini Plan: - 1 Domain Allowed - 2 GB Storage - 5 Email Accounts - 2 MySQL Databases - Unlimited Bandwidth ...