Starting from $39.99/mo on Dedicated Servers Packages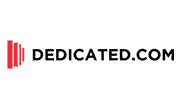 Coupon Details
We have more than what you want. They are yours only if you want it. Starting from $65.99/mo on Dedicated Servers Packages at Dedicated.com
Intel® Xeon™ E-2236:
– CPU 6c/12t @ 3.4 Ghz
– Ram 64GB DDR4
– Storage 1 x 512GB NVMe
– Bandwidth 100 TB
Intel® Xeon™ E3-1270v5/v6:
– CPU 4c/8t @ 3.8 Ghz
– Ram 64GB DDR4
– Storage 2 x 512GB SSD
– Bandwidth 100 TB
Intel® Xeon™ E3-1270v5/v6:
– CPU 4c/8t @ 3.8 Ghz
– Ram 64GB DDR4
– Storage 2 x 1TB HDD
– Bandwidth 100 TB
Intel® Xeon™ E3-1270:
– CPU 4c/8t @ 3.4 Ghz
– Ram 32GB DDR3
– Storage 4 x 1TB HDD
– Bandwidth 100 TB
Intel® Xeon™ E3-1270:
– CPU 4c/8t @ 3.4 Ghz
– Ram 16GB DDR3
– Storage 2 x 256GB SSD
– Bandwidth 100 TB
Intel® Xeon™ E3-1270:
– CPU 4c/8t @ 3.4 Ghz
– Ram 16GB DDR3
– Storage 1 x 256GB SSD
– Bandwidth 100 TB
Intel® Xeon™ E3-1270:
– CPU 4c/8t @ 3.4 Ghz
– Ram 16GB DDR3
– Storage 2 x 1TB HDD
– Bandwidth 100 TB
Intel® Xeon™ E3-1270:
– CPU 4c/8t @ 3.4 Ghz
– Ram 16GB DDR3
– Storage 1 x 128GB SSD
– Bandwidth 100 TB
Intel® Xeon™ E3-1270:
– CPU 4c/8t @ 3.4 Ghz
– Ram 16GB DDR3
– Storage 1 x 1TB HDD
– Bandwidth 100 TB
Intel® Xeon™ E3-1270:
– CPU 4c/8t @ 3.4 Ghz
– Ram 8GB DDR3
– Storage 2 x 1TB HDD
– Bandwidth 100 TB
Intel® Xeon™ E3-1230:
– CPU 4c/8t @ 3.3 Ghz
– Ram 8GB DDR3
– Storage 2 x 2TB HDD
– Bandwidth 100 TB
Intel® Xeon™ E3-1270:
– CPU 4c/8t @ 3.4 Ghz
– Ram 8GB DDR3
– Storage 1 x 128GB SSD
– Bandwidth 100 TB
Intel® Xeon™ E3-1270:
– CPU 4c/8t @ 3.4 Ghz
– Ram 8GB DDR3
– Storage 1 x 1TB HDD
– Bandwidth 100 TB
Intel® Xeon™ E3-1230:
– CPU 4c/8t @ 3.3 Ghz
– Ram 8GB DDR3
– Storage 2 x 1TB HDD
– Bandwidth 100 TB
Top 20 Highlights Coupons and Promo Codes!
These attractive offers are yours to use it at BingLoft best coupon code. For more details & limitation of this offer, please visit site. Save 50% OFF All DirectAdmin Hosting Plans DirectAdmin Shared Hosting DA S1 DA S2 DA S3 St...
Category: Reseller Hosting, Web Hosting,
This offer has expired.
Click to copy & open site