Starting from just $60/yr on Cloud Hosting Plans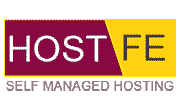 Coupon Details
Why spend more when you have to accumulate every penny? Great opportunity to spend less money on your favorite items. Cloud Hosting Plans from just $60/yr at HostFe.com
CLOUD1:
– Single Domain
– 2vCore CPU
– 2GB RAM
– 100 Entry Process
– I/O | IOPS 2MB/s
– Unlimited Storage
– Unlimited Bandwidth
– Unlimited MySQL DB
– Unlimited FTP Accounts
– Unlimited Email ID
– Free SSL Certificate
– No Data Backup
– NodeJs Available
– Python Available
– SSH Access Available
– cPanel Control Panel
– 24/7 Customer Support
CLOUD2:
– 10 Addon Domain
– 2vCore CPU
– 4GB RAM
– 150 Entry Process
– I/O | IOPS 2MB/s
– Unlimited Storage
– Unlimited Bandwidth
– Unlimited MySQL DB
– Unlimited FTP Accounts
– Unlimited Email ID
– Free SSL Certificate
– No Data Backup
– NodeJs Available
– Python Available
– SSH Access Available
– cPanel Control Panel
– 24/7 Customer Support
CLOUD3:
– 100 Addon Domain
– 4vCore CPU
– 6GB RAM
– 200 Entry Process
– I/O | IOPS 4MB/s
– Unlimited Storage
– Unlimited Bandwidth
– Unlimited MySQL DB
– Unlimited FTP Accounts
– Unlimited Email ID
– Free SSL Certificate
– No Data Backup
– NodeJs Available
– Python Available
– SSH Access Available
– cPanel Control Panel
– 24/7 Customer Support
CLOUD4:
– Unlimited Addon Domain
– 4vCore CPU
– 8GB RAM
– 250 Entry Process
– I/O | IOPS 4MB/s
– Unlimited Storage
– Unlimited Bandwidth
– Unlimited MySQL DB
– Unlimited FTP Accounts
– Unlimited Email ID
– Free SSL Certificate
– No Data Backup
– NodeJs Available
– Python Available
– SSH Access Available
– cPanel Control Panel
– 24/7 Customer Support
Top 20 Highlights Coupons and Promo Codes!
Want to find cheap places to shop - Come to us, because we know where you can do it. Don't forget to apply best coupons when you see your favorite items. Save 20% OFF for Your First Order at Provider.lk
This offer has expired.
Click to copy & open site