VPSDime – $7/month 6GB Ram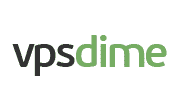 This offer has expired.
Click to copy & open site
Coupon Details
get VPS $7/month 6GB Ram at VPSDime.com

Oktay is back with a special offer for his brand VPSDime. This is the sixth time we're featuring VPSDime. They came third in the most recent quarterly poll, having established themselves as a popular and stable provider in the community. This offer features a VPS that's not only shy of RAM and SSD space, but also not of network power: it includes a 10Gbps uplink! Oktay and his brands are known for the custom control panel they all utilize, always fully integrated into the billing area. No double logins and no SolusVM to have to fool around with. VPSDime nodes are dual E5-2620v2's or dual E5-2640v2's with 384GB RAM and 8 x SSD drives in RAID10. The VPSDime hardware is rented from Incero in both Dallas and Seattle, which are the only two locations this offer is available in. IPv6 does not seem to be available, but with the one IPv4 you should be safe for now. I've found a review for VPSDime and it's positive one at that! Please share your own experiences with us here.
The plan
6GB RAM
30GB SSD space
4 vCPU cores
2TB traffic
10Gbps uplink
1x IPv4
OpenVZ/Custom
$7/month
Top 20 Highlights Coupons and Promo Codes!
This offer has expired.
Click to copy & open site