Have you ever heard about Mailbird – a desktop email client for Windows 7, 8 and 10? If you haven't heard, you should search for more information about Mailbird. Because it is one of the best email client nowadays. Here are some reasons to use GetMailbird.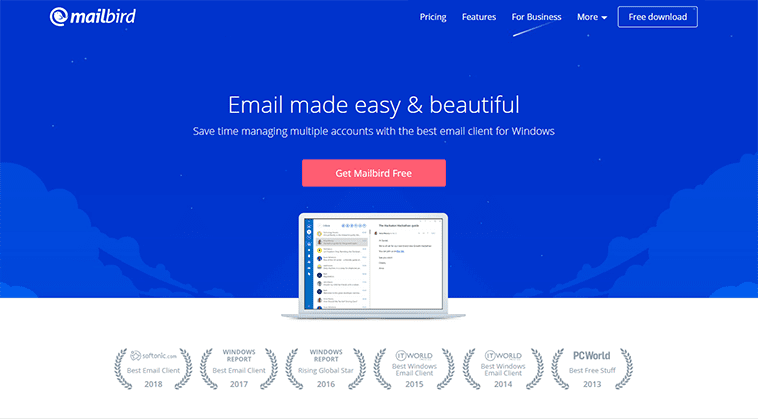 Mailbird Review – Reasons To Choose Mailbird

What is Mailbird?
Firstly, let find out what Mailbird is. Mailbird is more than just a mail client. It is designed to change the way you manage your email, scheduling, tasks, communications, and beyond. Moreover, Mailbird doesn't require you to sign up a bunch of new accounts and services, it allows you to do everything in one place by bringing all your accounts onto one amazing looking platform.
Who can use Mailbird?
Mailbird is a client for Windows and is optimised for Windows 7, 8 and 10.
The following email accounts can use the Mailbird interface:
– Gmail
– Outlook.com (including Hotmail)
– Yahoo mail
– iCloud
And other IMAP accounts
Mailbird Award and recognition
Mailbird has received many awards for its wonderful features such as:
– Best Free Email Client for Windows in 2013 by PC World.
– Best Free Email Client for Windows in 2014 by IT World.
– Best Free Email Client for Windows in 2015 by IT World.
– Rising Global Star in 2016 by Window Report.
– Best Email Client in 2017 by Window Report.
– Best Email Client in 2018 by Softonic.com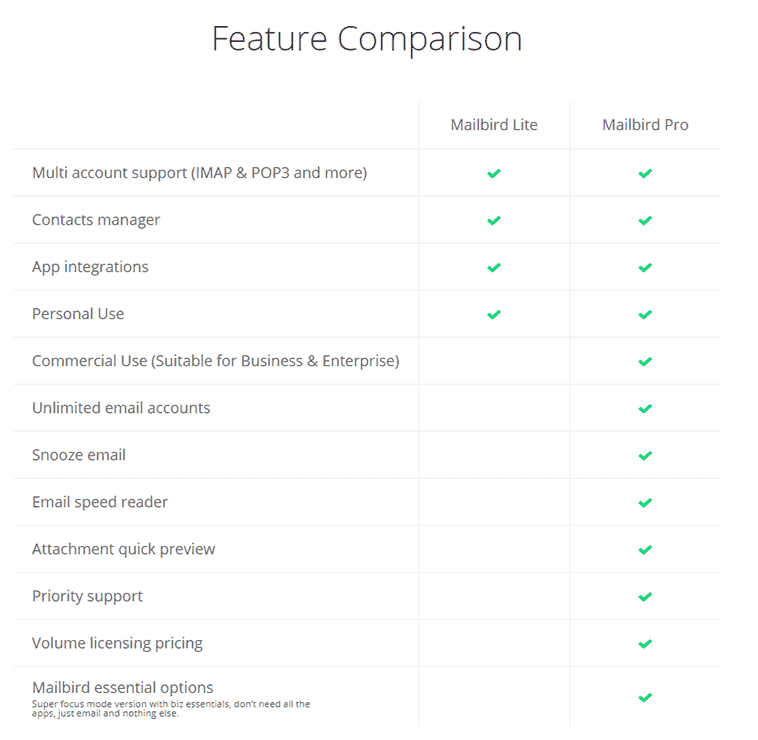 Mailbird provides the best price ever
Mailbird and Price
Although Mailbird is great service with a lot of fantastic features, it has a very cheap price. Mailbird has two versions: the Mailbird Lite and the Mailbird Pro. The Mailbird Lite is free forever however its features are a little bit limited with only four main features
– Multi account support (IMAP & POP3 and more)
– Contacts manager
– App integrations
– Personal Use
The Mailbird Pro has more features addition to the basic ones but the price is still so cheap. It only takes $12 per year or $39 for lifetime using. With that little money, you will access to the pro features of Mailbird which are
– Commercial Use (Suitable for Business & Enterprise)
– Unlimited email accounts
– Snooze email
– Email speed reader
– Attachment quick preview
– Priority support
– Volume licensing pricing
– Mailbird essential options
Mailbird is so easy to use
If you have used Microsoft Office, you would find it a little bit cramped with several buttons, features, and functionalities. All squished into one email client. It's also difficult to use without hours of training how to use each of its features. But Mailbird is totally opposite. You'll find it very to use at the first trial.
When you first set up your Mailbird account, you can click on "General Settings" and customize the following features to suit your needs. These features include, but are not limited to, the following: appearance, composing, accounts, identities, folders and more. After you customize your account settings, you'll find your interface looks much nicer and very easy to use.
Mailbird's pros and cons
As any other email clients, Mailbird has its own pros and cons
Mailbird's pros
– As mentioned about, the best advantage of Mailbird is that it is friendly and easy for users to use even when they don't know much about technology.
– The second advantage is Mailbird supports multiple accounts and identities very well (including unified folders).
– The third one is postponing email very easily.
– Last but not least, Mailbird handles email particularly fast.
Mailbird's cons
– The biggest problem with Mailbird is to identify unwell key emails.
– Another disadvantage is that Mailbird gives the users fast search results but the results need to be more criteria and clearer.
– Furthermore, Mailbird does not offer filters or other tools for automation such as suggested replies or folders for filing.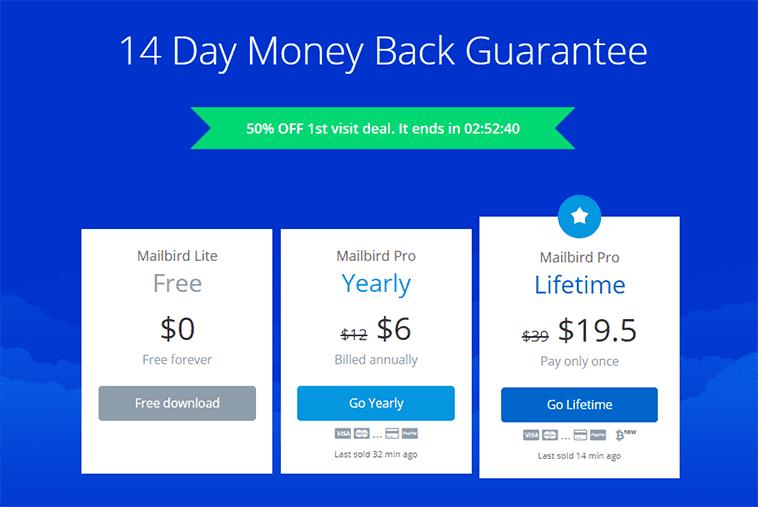 What do people think about Mailbird?
What do people think about Mailbird?
Do Mailbird have the good qualities as it said. Let listen to some users of Mailbird.
Edwin Krisnha
According to Edwin who has used both Windows 10 Mail and Mailbird, Mailbird is much better than Windows 10 Mail. Because Mailbird feels more minimalist, lightweight and has better shortcuts. In addition, Mailbird shows all mails in the same thread on the same page which Mail doesn't. This feature makes users check mail easier and faster.
Debayan Kar Mohapatra
To him, Mailbird is the best form of desktop email for Windows users. The reason is that it helps organize all his works in one place. Thanks to this good organization, he has become a better and more punctual manager.
Rob Roosen
He first installed the Mailbird because of its solid design. After using it for few days, he feels like it is totally different from other email clients. It is very friendly to the users. He bought the Pro version of Mailbird immediately for one year after trying the free version.
Hanif Widyanto
He loves Mailbird's strong system which is always working seamlessly. That's why he is using Mailbird as his primary messaging client for now and the next years.
Matthew P.
He said that he is very pleased with Mailbird because it provides what the actually users need. Besides, it helps his a small manufacturers agent (10 staff, 2 offices), and along with all his other projects get more productive everyday.
Duncan W.
Driving down cost was the most prominent driver and reason for looking at different options. Started out as search for freeware options (think Mozilla Thunderbird). That lead in to a deeper search for reasonably priced options that at the same time expanded on capabilities. With the high quality service, the cost of Mailbird is so cheap. It's certainly the first thing you must look at when you first find Mailbird. One thing for sure, the cost of Mailbird is always one of the cheapest cost of those email client.
So now, you may know about Mailbird – one of the best email client in the world nowadays. Now it's time for you to try Mailbird and let it help your work easier and faster.