MyDomain, Dotster, Netfirms and Domain.com are subsidiaries of the EIG Group, so they have a same interface of domain name registration, domain name management. Promotions usually occur at the same time, they don't have specific time for their promotions so registration should be very fast and accurate.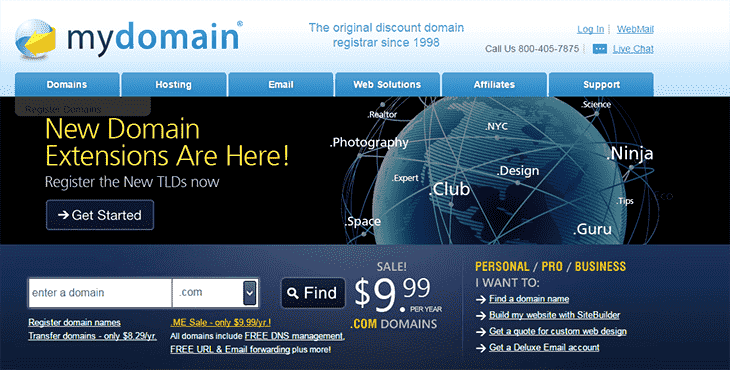 Of the four domain registar, Domain.com has the lowest renewal price of $ 11.49, MyDomain is the second lowest at $11.99.
Domain registration at MyDomain is very easy, but if it's the first time you sign up here, you'll get an error message and get rejected. Don't worry, just follow the registration steps and how to fix the problems in this post is to register the domain.
Domain Name Registration Guide at MyDomain
Visit Mydomain Offical website and enter the domain you want to buy:
As you see, they are having discount for domain .COM only $9.99/year. Hurry!!
After enter your domain which you wanna buy on MyDomain, you need click button "FIND" to search your domain.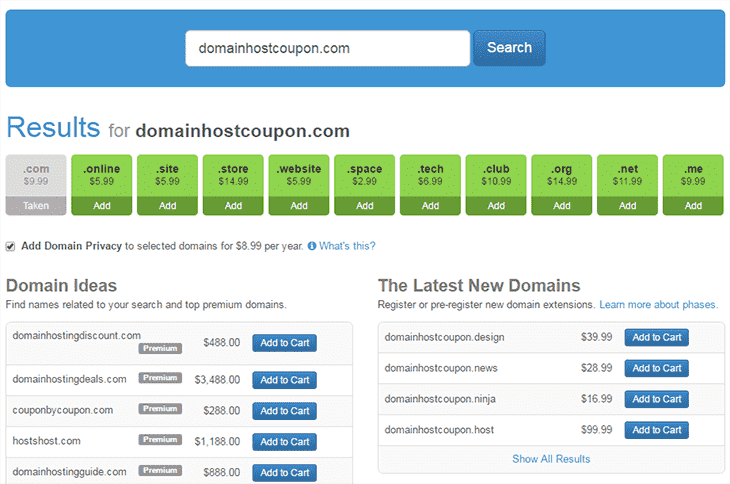 First you remove the option "Add Domain Privacy …". The cost of hiding domain name information is so expensive at $ 8.99 a year. Then, click "add" for your domain which you want to buy, such as: .NET, COM, TECH, CLUB …

In this picture, i choose domain .NET. Then you need click the button "Checkout". A new dialog box appears. If you do not have an account click "Create Account" button. If you have an account, just login in.
On the next screen, MyDomain suggests you alot of services. You should ignore these services and pull down. Click the "Continue" button to go to the Billing Info.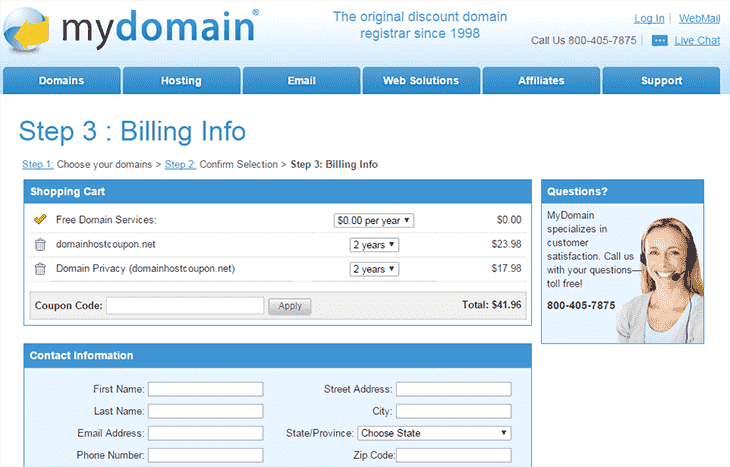 In this screen, let read again every information about your bill and fill to Contact Information and Payment info. As soon as you complete the payment. You will receive a message from MyDomain as follows:

Don't worry. Let contact with Support team of MyDomain at Chat Live. They will help you complete your payment and get your domain as quickly as possible.
Or simply wait a moment, MyDomain will send you email requesting identity authentication. You just need to fulfill their requirements to complete the registration.
Get Save 20% Off your order – No Minimum Purchase Required at MyDomain.com
Click to copy & open site
3 Days Only – 20% off! at MyDomain.com
Click to copy & open site