Popular HostUs.us Coupons
| Discount | Description | Type |
| --- | --- | --- |
| $6.99 From | cPanel SSD Reseller Hosting from $6.99/mo | DEAL |
| 30% Off | Special Offers VPS Hosting | COUPON |
| 15% Off | 15% Off for Life on VPS Hosting plans | COUPON |
| $2.00 From | From $2.00/mo on Shared Hosting Plans | DEAL |
| Hot Deals | $7.5/month 2GB VPS Hosting in Hong Kong and Sydney and Singapore | DEAL |
| Hot Deals | $18/quarter 6GB OpenVZ VPS in US | DEAL |
| 30% Off | 30% Off for life KVM VPS Hosting Plans | COUPON |
| 20% Off | 20% Off on Shared Hosting package | COUPON |
| Hot Deals | OpenVZ 6GB RAM 6GB vSwap 4 vCPU Core Just $65/year | DEAL |
| Hot Deals | IPv4 / IPv6 Subnets | COUPON |
| $299 From | From $299/mo on Dedicated Servers | DEAL |
| 20% Off | 20% Off For Life on any Unmanaged VPS Hosting Plan | COUPON |
| Hot Deals | $15/Year 1024MB RAM VPS Hosting | DEAL |
| Hot Deals | $35/year 2GB VPS Hosting in Dallas, Los Angeles, or Atlanta | DEAL |
HostUs.us Unreliable Coupons
Currently
11
unreliable coupons
30% Off on All OpenVZ & KVM VPS Hosting plans
Save today 30% on All OpenVZ VPS Hosting and KVM VPS Hosting plans at HostUs.us
25% Off for life VPS
20% Off Recurring All VPS Hosting Plans - OpenVZ VPS - Virtual Private Servers - KVM VPS - Virtual Private Servers
30% Off Web Hosting
Black friday/ Cyber Monday 2017 Save today 30% Web Hosting Annual Plans
25% Off Openvz & KVM VPS
Black friday/ Cyber Monday sale 2017 Save 25% Off Openvz & KVM VPS Hosting all Plans
10% Off Reseller Hosting
Black friday sale Save 10% Off Reseller Hosting Annual Plans
PositiveSSL Only $4.99/year
Black friday: Comodo PositiveSSL Only $4.99/year
20% Off SSD Shared Hosting
Save 20% Off Annual SSD Shared Hosting Plans Up to: - 120GB SSD Storage - Unlimited Bandwidth - Unlimited Addon Domains - Unlimited FTP Accounts - Unlimited Email Accounts - Dedicated IP Address
20% Off Recurring Unmanaged VPS Hosting
20% Off for life Unmanaged VPS Hosting at HostUs
30% Off Shared Hosting
Get 30% discount Shared Hosting paying by year
25% Off OpenVZ & KVM VPS Hosting
Get 25% Off OpenVZ & KVM VPS Hosting
50% Off OpenVZ VPS Hosting plans
Save 50% Off your first month on OpenVZ VPS Hosting plans. Limited Time Offer.
Top 5 Latest Coupons
Delimiter: Huge Discount for Storage VPS Plans
Get Huge Discount for Storage VPS Plans when you register and using this coupon at Delimiter.com. A bargain for you is here! Don't go around and find any more
About HostUS
HostUS was founded in 2012 with its first location in Atlanta, GA. With the new Amsterdam location, HostUS has been available in 9 cities around the world. In the USA and Europe, HostUS operates, owns ASNs (AS7489 / AS25926) and hardware. In Asia Pacific (Hong Kong, Sydney and Singapore), HostUS partner with SoftLayer (AS36351) offers services. Most locations are using IP directly. On this time, HostUS has opened its Hong Kong location, which is used by many people due to its fast access from Vietnam. With this Singapore location we will have more choices. HostUS uses Dual Xeon E5 CPUs, RAID 10 SSDs, gigabit speed networks. The price is the same as Hong Kong and Sydney.
Hosting Plans
This provider forcus on: Shared Hosting, Reseller Hosting, VPS Hosting and Dedicated Servers. These are the pricing of Stating Hosting Plans of HostUS:

Houst US is an open infrastructure of SoftLayer. So the cost of the hosting package is quite expensive but you will be assured of Support and Technique. The hosting provider's offer can be said to be the cheapest on the web hosting market. Only $2/mo, too cheap for a Shared Hosting Package. With this Package, you will get good features including:  5GB SSD Storage, 100GB Bandwidth, 10 Addon Domains, 10 FTP Accounts and 10 Email Accounts. With Dedicated Server packages, you have 3 main choices from $299 to $699 per month. you can read some features of these dedicated servers on table below: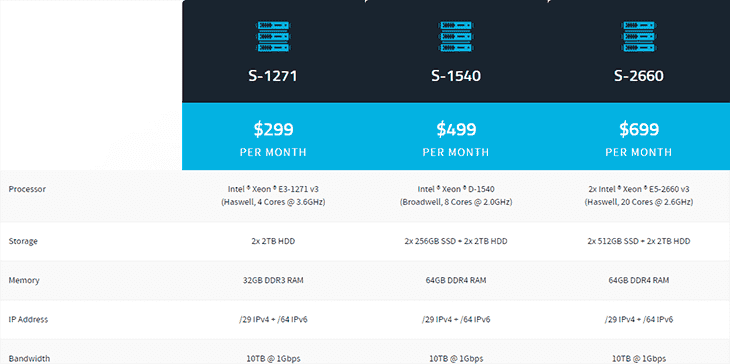 Special, this provider have a DDOS protect, you will feel safe when using their hosting packages beacause they offer to 10Gbps DDos Protection for all their VPS Hosting.
Domain Service
Apart from cheap hosting packages, they also offer domain services at reasonable pricing: $9.99/yr for Domain .COM, .US and $11.99/yr for domain .NET. Pricing of other Domain name from $10.99 to $13.99/year. This price is also applicable to Renewal Domain and Transfer Domain.
Support Service
You can liaise with them through Tickets. This seems to be their most prominent contact. But you will have to wait for a long time to receive their replies. I think they should really improve the customer support system. They can add more support methods such as live chat or Phone.
Conclude
If you have not used through the hosting package of this provider then you should try it once. The ow-cost services, this fit with the private blog at low traffic to the premium websites with high traffic. Although the customer support is not good but with the strength of HostUS, you can rest assured when using their hosting packages.