Popular ShineServers Coupons
| Discount | Description | Type |
| --- | --- | --- |
| 50% OFF | 50% Off on Dedicated Servers Packages | COUPON |
| $9.99 From | Starting from $9.99/mo on KVM VPS | DEAL |
| $125 From | Starting from $125/mo on Single Processor Servers | DEAL |
| $19.46 From | Starting from $19.46/mo on Reseller Hosting | DEAL |
| $5.99 From | Starting from $5.99/mo on Shared Hosting | DEAL |
| 70% Off | 70% Off For Life on Linux Web Hosting Plans | COUPON |
| 10% OFF | 10% OFF on KVM VPS Hosting Plans | COUPON |
| $153 From | Specially Managed Dedicated Servers $153/mo | DEAL |
| 50% OFF | 50% OFF on Reseller, Linux Share/VPS Hosting Plans | COUPON |
| Hot Deals | Fully-Managed Dedicated Servers Up to 32GB Starting from $135/mo | DEAL |
| 30% OFF | 30% OFF First Month or 15% OFF For Life on All the Services | COUPON |
| 30% OFF | 30% OFF & Free Domain on Cloud Shared Hosting Plans | COUPON |
| 10% OFF | 10% OFF on Any Linux VPS Hosting Plans | COUPON |
| 30% OFF | Dedicated Servers Packages Offer with 30% OFF Recurring | COUPON |
| 25% Off | 25% Off on Additional Hosting Packages | COUPON |
| $300 From | Dual Processor Multi-core Servers $300/mo | DEAL |
ShineServers Unreliable Coupons
Currently
11
unreliable coupons
ShineServers New Year Offers: Up to 90% OFF on Shared – VPS – Servers
ShineServers best coupons are on sale now! Don't wait any longer. Save huge on your favorite items when you use our ShineServers coupon codes. - 90% OFF on Linux Shared Hosting Services With COUPON 1 - 50% OFF on Dedicated Servers With COUPON 2 - 15% OFF on Digital Ocean Cloud Hosting Services With COUPON 3 - 15% OFF on AWS Cloud Hosting Services With COUPON 3 - 15% OFF on VPS Hosting Services With COUPON 3
75% Off Shared Hosting plans
Take action now, these prices are as good as they get. Don't forget ShineServers coupon code! The best way to save money. Save 75% Off Shared Hosting plans at shineservers.com STARTER Plan: - 10 GB SSD Storage Disk Space - Unlimited Monthly Bandwidth - Unlimited Add-On Domains - Unlimited Sub Domains - Unlimited MySQL Databases - Unlimited FTP Accounts - Unlimited E-Mail Accounts MEDIUM Plan: - 15 GB SSD Storage Disk Space - Unlimited Monthly Bandwidth - Unlimited Add-On Domains - Unlimited Sub Domains - Unlimited MySQL Databases - Unlimited FTP Accounts ADVANCE Plan: - 25 GB SSD Storage Disk Space - Unlimited Monthly Bandwidth - Unlimited Add-On Domains - Unlimited Sub Domains - Unlimited MySQL Databases - Unlimited FTP Accounts - Unlimited E-Mail Accounts
35% Off on Dedicated Servers Package
Everyday, we offer enticing deals that you can't miss. No reason to refuse this chance and have amazing shopping experience. Save 35% Off on Dedicated Servers Package at ShineServers.com Intel Quadcore X3430: - 8GB DDR3 ECC RAM - 2 TB SATAII - 1Gbit Dedicated Port - 35TB Bandwidth - Location: Netherlands - Activation Time: 5 - 12 Hours (Weekends Exception) Intel Xeon E3 - 1230: - 8GB DDR3 ECC RAM - 2 TB SATAII - 1Gbit Dedicated Port - 35TB Bandwidth - Location: Netherlands - Activation Time: 5 - 12 Hours (Weekends Exception) Intel Xeon E3-1230 v2: - 16 GB DDR3 ECC RAM - 2 TB SATAII - 1Gbit Dedicated Port - 35TB Bandwidth - Location: Netherlands - Activation Time: 5 - 12 Hours (Weekends Exception) Intel Xeon E3-1270 v5: - 16GB RAM - 2TB SATAIII - 1Gbit Dedicated Port - 35TB Bandwidth - Location: Netherlands - Activation Time: 5 - 12 Hours (Weekends Exception) 2x Intel Xeon E5-2620v2: - 16 GB RAM - 512 GB SSD - 1Gbit Dedicated Port - 100TB Bandwidth - Location: Netherlands - Activation Time: 5 - 12 Hours (Weekends Exception) 2x Intel Xeon E5-2620v3: - 64 GB RAM - 980 GB SSD + 2TB SATA - 1Gbit Dedicated Port - 100TB Bandwidth - Location : USA - Activation Time: 5 - 12 Hours (Weekends Exception) 2x Intel Xeon E5-2687W V3: - 64 GB RAM - 32 TB SATAIII - 1Gbit Dedicated Port - 100TB Bandwidth - Location: Netherlands - Activation Time: 5 - 12 Hours (Weekends Exception)
35% Off For Life on any Shared Hosting Plan
Save 35% Off For Life on any Shared Hosting Plan at ShineServers.com STARTER: -10 GB Performance Solid-State Drive Storage -Unlimited Premium Bandwidth -Latest cPanel -One-Click Installer Softaculous -CloudFlare CDN Plugin -Unlimited Add-On Domains -Unlimited Sub Domains -Unlimited Parked Domains -Unlimited MySQL Databases -Unlimited FTP Accounts -Unlimited E-Mail Accounts -Unlimited Forwarders -Unlimited Auto Responders -SSH Access -Ruby On Rails* -Perl, CGI, Python, cURL, GD2, ionCube PHP Loader, phpMyAdmin -Activation Time: Instant MEDIUM: -15 GB Performance Solid-State Drive Storage -Unlimited Premium Bandwidth -Latest cPanel -One-Click Installer Softaculous -CloudFlare CDN Plugin -Unlimited Add-On Domains -Unlimited Sub Domains -Unlimited Parked Domains -Unlimited MySQL Databases -Unlimited FTP Accounts -Unlimited E-Mail Accounts -Unlimited Forwarders -Unlimited Auto Responders -SSH Access -Ruby On Rails* -Perl, CGI, Python, cURL, GD2, ionCube PHP Loader, phpMyAdmin -Activation Time: Instant ADVANCE: -25 GB Performance Solid-State Drive Storage -Unlimited Premium Bandwidth -Latest cPanel -One-Click Installer Softaculous -CloudFlare CDN Plugin -Unlimited Add-On Domains -Unlimited Sub Domains -Unlimited Parked Domains -Unlimited MySQL Databases -Unlimited FTP Accounts -Unlimited E-Mail Accounts -Unlimited Forwarders -Unlimited Auto Responders -SSH Access -Ruby On Rails* -Perl, CGI, Python, cURL, GD2, ionCube PHP Loader, phpMyAdmin -Activation Time: Instant
Get Free Dedicated Hosting Setup
Get Free Dedicated Hosting Setup. Deployed in 12 – 24 hours.
50% Off Web Hosting
Flat 50% lifetime discount for Web Hosting
20% discount for VPS Hosting Plans
Using shineservers.com coupon code to get 20% discount for VPS Hosting Plans (only valid for new orders)
Save 35% Off
Save 35% Off all Products at shineservers.com
25% Off an additional VPS & Dedicated Servers for life
25% Off an additional VPS & Dedicated Servers for life at ShineServers.com
15% Off KVM VPS Hosting
Save 15% Off KVM VPS Hosting at shineservers.com
35% Off Shared SSD Hosting Plans
Save 35% Off Shared Hosting Plans at shineservers.com
Top 5 Latest Coupons
RapidSSLOnline: RapidSSLOnline Coupon $34.44 OFF for Thawte® SSL Web Server Certificates
Save Up to $34.44 OFF for Thawte® SSL Web Server Certificates. You won't find this deal elsewhere. At check out time, use RapidSSLOnline best promo codes to get savings - Save $10 for 1 Year Billing Cycle with Coupon 1 - Save $15 for 1 Year Bill...
About ShineServers
ShineServers was established in 2010 with the goal of providing Web hosting services to individual and business customers worldwide. At present, they have provided excellent services to thousands of customers all over the world and they have received many great reviews from their customers. ShineServers offers a comprehensive range of Web Hosting solutions including Self Managed and Managed Dedicated Servers, Shared Hosting, Reseller Hosting, Control Panel, SSL Certificates and Domain Name Service. In addition, they provide excellent customer service. With a staff of experienced and knowledgeable professionals, the customer will be supported quickly and professionally.
ShineServers Hosting Plans
Unlimited Shared Linux Hosting packages are the hosting packages that many customers love by being affordable and suitable for personal websites, blogs or small business wesite. These hosting packages are priced from just $2.99/mo with the good features including: Unlimited Bandwidth, Unlimited Storage, Unlimited MySQL and more. You can read more detail and pricing of these web hosting on table below: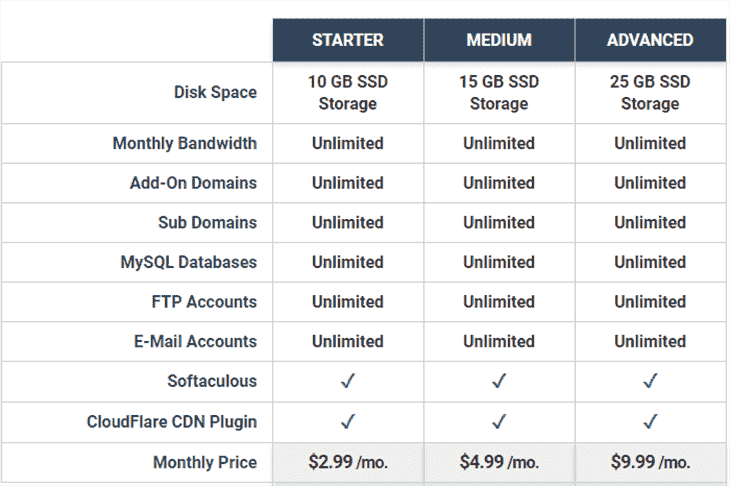 If you are looking for a hosting package with a price that is not too high and suitable for small and medium business websites or medium traffic websites. ShineServers offers you VPS hosting packages at affordable prices and many great features. These VPS Hosting Packgages have from 75GB to 300GB Storage, 0.5GB to 4GB RAM, from 1 to 3 Cores CPU. You can read more features and price of these VPS Hosting on below: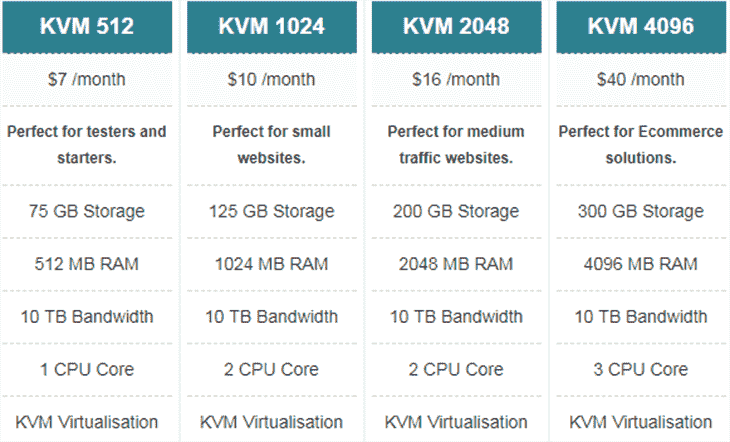 If you care looking for a high quality Dedicated Servers, they provide up to 8 choices for you. Their Dedicated Servers sold at reasonable price from $85/mo to $1499/mo. The Customers will own a good hosting with good features and support services. These Dedicated Servers suitable for large business and retailer Website which need a large storage and high traffic daily. We will show you some main features of 4 first Dedicated Servers of ShineServers on table below: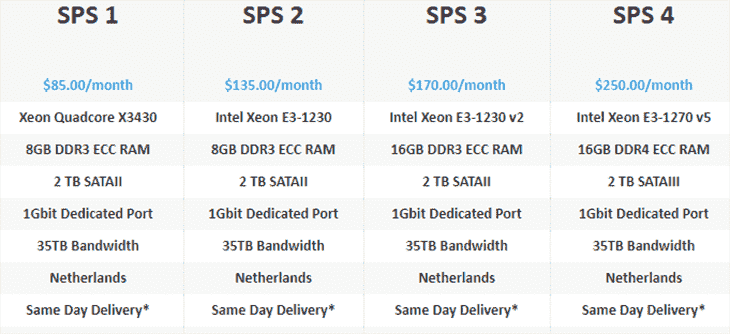 ShineServers Customer Services
ShineServers is rated as one of the many hosting service providers with good customer service. They provide basic customer services such as: Live Chat, Support Email, Support Tickets and Support Phone. However, the response time of technicians to customers is long. This is their weakness.
Conclusion
Be sure to read carefully their terms and policies before deciding to purchase packages and services at ShineServers. When there are any basic issues with your hosting packages, you should resolve them yourself. They have been rated as one of the many reliable hosting providers by professionals and related rating websites.