Currently
10

active coupons
Save 30% OFF on Web Hosting Service Plans ( Apply for Monthly Billing Only )at AdminVPS.ru
Using briden AdminVPS.ru coupon and get happy with special offer. Access and receive promotions at AdminVPS.ru. Get 60% Off on Any Web Hosing Plans.
Save 60% Off on AdminVPS Web Hosting Plans
Price start just from 249 Rub/mo on KVM VPS and VDS Hosting services
Get Windows VPS or VDS Servers Packages starting just from 690 Rub/mo at AdminVPS.ru.
VPS Hosting Packages Starting from 249 Rub/mo. Spend less when using deal while shopping at AdminVPS. Use AdminVPS best promotions at check out and get great deals.
VDS Products for Bitrix Packages with Starting from 399 Rub/mo
Web Hosting Service is here price start just from 69 Rub/mo
Own a package of this best WordPress hosting service with only 69 Rub / month or more
With Just from RUB.699/mo on SSL Certificate Service at AdminVPS.ru
Unreliable Coupons
Currently
2
unreliable coupons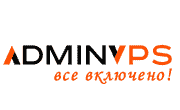 ,
50% OFF for Any Dedicated Server use 1270v6 Processor
All Dedicated Server use 1270v6 Processor 50% OFF at AdminVPS.ru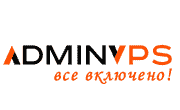 ,
AdminVPS Black Friday – Cyber Monday: 70% OFF on Shared/VPS/VDS & Servers
- 70% OFF on Shared Hosting - 50% OFF on Dedicated Servers - 30% OFF on VPS and VDS