Currently
8

active coupons
Starting from $4.95/mo on DDOS Protected DNS Service at ClouDNS.net. ClouDNS coupons is the best promotions available today. Use ClouDNS best coupon.
1 month free DDoS Professional DNS hosting. Open a free account and use the coupon code as a voucher.
Free 30 Day Trial DNS Services at ClouDNS.net
Positive SSL (Promo) Just $12.45/yr at ClouDNS.net Up to: - Domain validation - Unlimited sub-domains - Issued within 2 days - $10, 000.00 relying party warranty
Secondary DNS from $17.95/mo at ClouDNS.net
Prices start at $9.95/ month on GeoDNS Plans at ClouDNS.com
DDoS Protected DNS from $4.95/mo at ClouDNS.net
Starting from $2.00/mo on Premium DNS at ClouDNS.net
Unreliable Coupons
Currently
1
unreliable coupon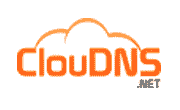 ,
ClouDNS Black Friday Promo – up to 30% OFF
We are offering you to UPGRADE your Free DNS plan to DDoS Protected or Premium plan with up to -30% OFF the regular price! Great opportunity, right?