Currently
12

active coupons
Spend less using coupon for yourself. Don't hesitate to purchase items at HostNamaste.com with this best coupon. Save Up to $199 OFF for Windows VPS from 1GB to 4GB PlansPlan Name Windows-1024 Windows-2048 Windows-3072 Windows-4096...
Time to go shopping & find amazing discounts at HostNamaste.com. Find and enjoy amazing discounts to save money. Get Windows VPS Hosting 2GB Plan with special price just $5.00/mo Lifetime Configurational of Plan: - 2 x CPUs - 2 GB RAM - 60 GB ...
Great deals available! Chance to save money. Save $45 OFF Lifetime for 1GB KVM VPS Plan. Check out today and get big saving with HostNamaste.com best coupon. Configurational of plan: - 1 GB RAM - 1 GB vSWAP - 30 GB Storage - 1 TB Bandwidth -...
Use HostNamaste.com promo code to save money or you have to cry later. Save $30 OFF Recurring for OpenVZ VPS Hosting 1GB and 2GB Plans. Time and quantity is limited, don't forget that. Note: The Coupons apply for Jacksonville, Florida, USA and Fr...
Apply coupon code HostNamaste.com to buy at the best level. Get 2GB VPS Resource Pool Plan with price just $6.99 Recurring. Without this promotion code, you would have to pay a large fee more. Configuration of Plan - Create 3 VPS - Create 3 Use...
Come to Store now, shop with happiness and save more money with this great coupons. Save Up to $189.88 OFF for OpenVZ VPS and Linux VPS Plans at HostNamaste.com Note: The Coupon Apply for Yearly Billing Cycle OnlyPlan OpenVZ-1024 OpenVZ...
No need to worry about your budget if you have a promo code on hand. These promotional codes will not last long, apply it to your purchases before they expire. Get $40 OFF Recurring for OpenVZ VPS 1GB Plan at HostNamaste.com - 1024 MB RAM - 1024...
Are you looking for the best time to shop? Now - it's time for you to do that. Save Up to $6.99 OFF on OpenVZ VPS Hosting Plans at HostNamaste.comPlan OpenVZ-1024-Russia OpenVZ-2048-Russia OpenVZ-1024-India OpenVZ-2048-IndiaMemor...
Get your favorite products with this best promotions. Forget it, you will regret muchRAM 128 MB 256 MB 512 MBvSwap RAM 128 256 512Storage 05 GB 10 GB 20 GBBandwidth 0.10 TB 0.25 TB 1 TBvCPU Core 1 1 1...
Everyone loves bargains and we know you like it. Want to save more money? Don't miss out this big sale ever. Get KVM VPS 512 Plan with just $19.99/yr at HostNamaste.com KVM-512: - 1 CPUs - 512 MB Memory - 512 MB vSWAP - 15 GB Storage - 1 TB ...
Don't time-consuming longer. Shop and save more withcoupons. Christmas Deals 2019: Get Big Sale on Shared Hosting and Dedicated Servers. Shared Hosting Deals: – Linux Plesk Shared at only $8/year (COUPON 1) – Linux CWP Shared at only $5/year (C...
Without coupon, no save big for products with this special price. Buy the service now. Huge Discount on VPS Hosting Plans with 2019 Year End Promo. OpenVZ VPS Deals: – OpenVZ-512 at only $10/year (COUPON 1) – OpenVZ-1024 at only $20/year (COUPO...
Unreliable Coupons
Currently
1
unreliable coupon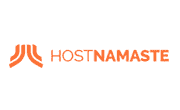 ,
$30 OFF Recurring for KVM VPS 1Gb & 2Gb Plans
Save Up to $30 OFF Lifetime for KVM VPS 1Gb and 2Gb Plans at HostNamaste.com. Buy more products to get more savings with this coupon. Great deals like these do not appear daily. KVM-1024 Plan: (COUPON 1) - 1GB RAM - 30GB Storage - 1TB Traffic ...