WordPress Hosting Service – Up to 2.5GB Disk Space, 2.5GB Ram from 156, 750 VND/3mo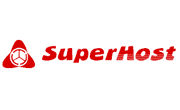 Coupon Details
WordPress Hosting Service – Up to 2.5GB Disk Space, 2.5GB Ram Starting from 156, 750 VND/3mo at Superhost.vn. Enjoy this great offer. These items will be yours in best rate.
Super WP-One Plan:
– Disk space: 1GB
– Bandwidth Unlimited
– CPU 1 core
– RAM 1 GB
– Database Unlimited
– Website »1
– CloudLinux Yes
– Prices start at: 156, 750 VND/3 months
Super WP-Two Plan:
– Disk space: 1.5GB
– Bandwidth Unlimited
– CPU 1.5 core
– RAM 1.5 GB
– Database Unlimited
– Website »2
– CloudLinux Yes
– Prices start at: 237, 000 VND/3 months
Super WP-Three Plan:
– Disk space: 2GB
– Bandwidth Unlimited
– CPU 2 core
– RAM 2 GB
– Database Unlimited
– Website »3
– CloudLinux Yes
– Price starts
– Prices start at: 125, 000 VND/Monthly
Super WP-Four Plan:
– Disk space: 2.5GB
– Bandwidth Unlimited
– CPU 2.5 core
– RAM 2.5 GB
– Database Unlimited
– Website »4
– CloudLinux Yes
– Starting price: 157, 000 VND/Monthly
Top 20 Highlights Coupons and Promo Codes!
Speak Host Promo Code: Price just R$39/mo on Linux VPS Servers Plans
Shopping at this store to get special offer and save big. SpeakHost.com.br offer incredible discount - hurry up to get it. Get Linux VPS Servers Plans with price just R$39/mo Basic VPS: - 2GB DDR4 ECC 2133 MHz RAM - 1 Intel® Xeon Colors - 10GB...