Currently
6

active coupons
Wait? Never. Take it right now if you don't want to regret! Come now to enjoy shopping more wonderful. Save 20% OFF for Your Order at Nhanhoa.com
Click to copy & open site
Sale now - shopping is more wonderful with Nhanhoa.com best products. What you need to do is check the promotions are active. Starting from just VND 86K/mo on SSD Cloud VPS Hosting Plans SSD CLOUD VPS A: - CPU: Intel® Xeon® E5-26XX - CORE: 1 - ...
Go shopping and a world of happiness is waiting for you with super discount.Simply because of the great prices that they offers. Starting from just VND 2.100K/mo on Dedicated Servers Packages at Nhanhoa.com Dedicated Server 1: - CPU: Intel® Xeon...
Grab up what you like with the best price and keep your wallet safe. Where is the correct choice between millions of suppliers? Shared Hosting Service at Nhanhoa.com from just VND 36K/mo.
You will regret if miss this deals. Time certainly doesn't go backwards, think accurately every time you decide to pay. Starting from just VND 55K/mo on Wordpress Hosting Plans at Nhanhoa.com WP Mini 1: - Storage capacity: 2GB SSD - Bandwidth /...
There are always many choices for you in life, so is shopping. Go to the shop and choose your favourite items before the deals end. Email Hosting and Email Server Plan Starting from just VND 50K at Nhanhoa.com Email Hosting Plans: CLASSIC 1: - ...
Unreliable Coupons
Currently
1
unreliable coupon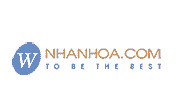 ,
50% OFF on Domain, Server, Email, VPS & Hosting Plans
All products with the cheapest price are yours after checking out. Choose for yourself the best way to be able to save. Save Up to 50% OFF on Web Hosting, VPS Hosting, Email Hosting and Dedicated Server Packages at Nhanhoa.com Domain Names: - 50...
Click to copy & open site