Home
» Best Domain Registrars of 2023
Best Domain Registrars of 2023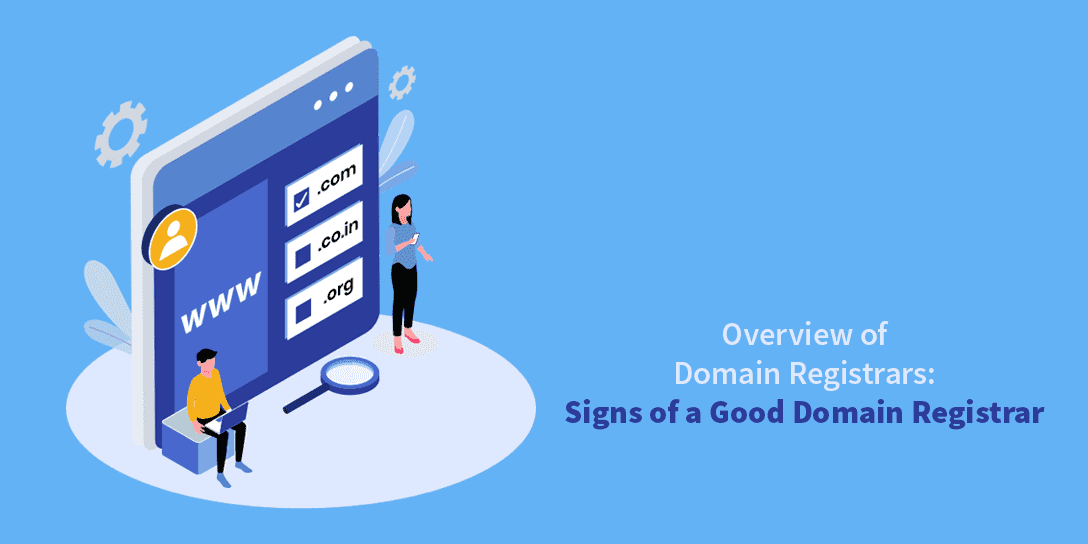 Overview of Domain Registrars: Signs of a Good Domain Registrar
A domain registrar: what is it? To keep things simple, a domain registrar aids in the acquisition and administration of your own domain name. You must work with a domain registrar in some capacity if you want to create a website because you need a domain name.
It's crucial to select a domain registrar that suits your needs because there are numerous options available. This blog post will go through the complex intricacies of domain registration and explain how to pick the best domain registrar for the domain name of your website.
Our Top Picks
PRICING
Web Hosting
$7.99 - $24.99
Cloud Hosting
$49.99 - $120
Dedicated Server
200 - $330
SERVER LOCATIONS
101Domain with data center
Canada, United Kingdom, Germany, France, Poland
PRICING
Web Hosting
$2.99 - $19.99
WordPress Hosting
$8.99 - $20.99
Reseller Hosting
$39.99 - $89.99
VPS Hosting
$4.99 - $190.00
Dedicated Server
$130.00 - $420.00
SERVER LOCATIONS
GoDaddy with data center
United States, Amsterdam, Singapore, India
PRICING
WordPress Hosting
$1.00 - $100
VPS Hosting
$2.00 - $18.00
Cloud Hosting
$9.99 - $355
Dedicated Server
$45.00 - $140
SERVER LOCATIONS
Ionos with data center
United States, Germany, United Kingdom, Spain
101Domain - Web Hosting starting at $7.99/mo
101Domain is providing international domain solutions with over fifteen years of experience. They offer domain solutions for tens of thousands of their customers. See more...
GoDaddy - Web Hosting starting at $2.99/mo
GoDaddy is the largest domain provider in the world. However, the hosting packages of this company is not well known. This supplier was established in 1997 by Baltimore, Maryland and entrepreneur Bob Parsons. They serve more than 13 million customers worldwide, with more than 4,908 employees globally. See more...
Ionos - Web Hosting starting at $0.50/mo
Ionos is a major domain name service provider in the world but due to its new open market in Southeast Asia it is not popular yet. In this article, I will guide you how to manage the domain is registered at Ionos. See more...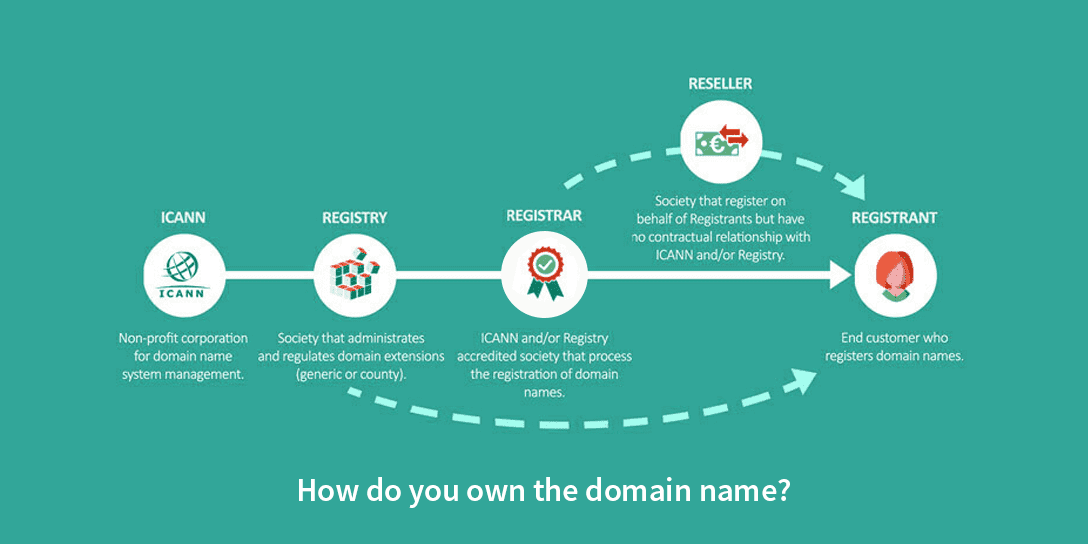 How do you own the domain name?
What is a Domain Registrar?
A domain registrar is a company that handles domain name registration and management. Its role is to make the process easier for customers to register domains successfully. A domain registrar aids a user in acquiring and maintaining a domain name.
You cannot have a website without obtaining a domain name for it because a domain name is essential when establishing one. Online registration is required to obtain a domain name, and here is where a domain registrar enters the picture.
The Internet Assigned Numbers Authority (IANA) maintains a category of top-level domains (TLDs) known as generic top-level domains (gTLDs) for use in the Internet's Domain Name System.
Some of the most well-known Internet domain suffixes, like.com,.info, and.net, are among the gTLDs. IANA is in charge of two additional TLD subcategories: infrastructure TLDs and country-code TLDs (ccTLDs) (ARPA).
The primary distinction between gTLDs and ccTLD registries is that the former are run by for-profit companies hired by ICANN, and the latter is managed by national governments or online communities. For instance, the British Indian Ocean Territory Government is in charge of the gTLD.io whereas Nominet UK is in charge of the ccTLD.uk.
The WHOIS database, which contains facts about the domain name's owner and other contact information, is accessible through registrars for each domain name they register. Additionally, domain registrars are in charge of keeping correct records of each domain name's owner and offering extra services like web hosting and email hosting (opens in a new tab).
A domain name is leased from the registrar when it is registered for a specific time. Every year, you have the option to renew your lease; as long as you do, the domain name will continue to be yours. However, the registrar may transfer your domain name to another party if you fail to renew your lease.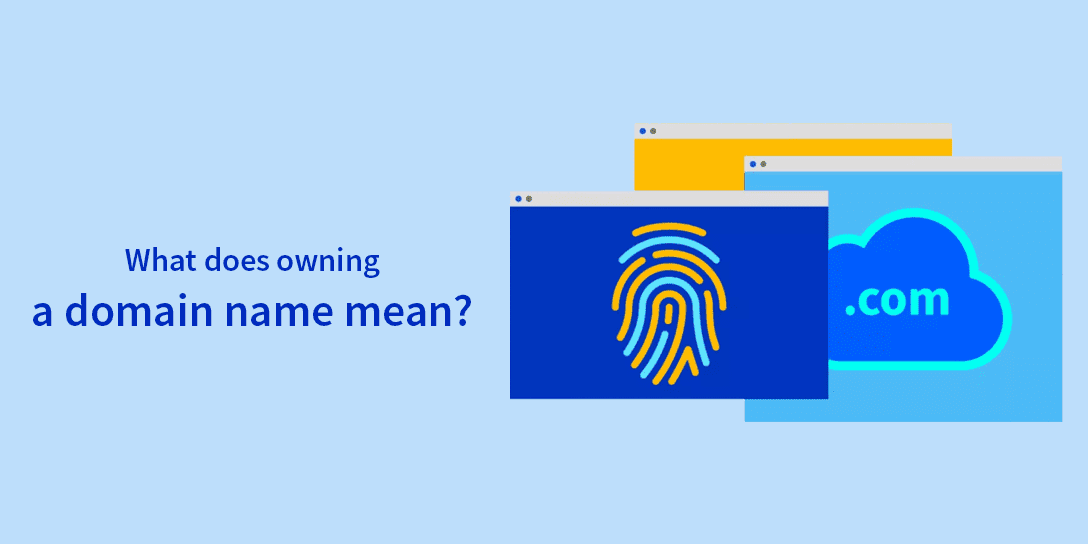 What does owning a domain name mean?
What does "Owning" a Domain Name Mean?
Although it's common to hear people talk about buying and owning domain names, the truth is that registries already own all of them; registrars only give their clients the option to reserve them for a set period of time.
A domain name may be reserved for a maximum of ten years. Given that registrars typically permit users to keep renewing their reservations indefinitely, a user may keep a domain name for longer than ten years. However, the user only leases the domain; they never truly own it.
How do Domain Registrars Work?
It is not possible to purchase domain names off the shelf. For handling domain names, there is a top-level non-profit organization called ICANN (Internet Corporation for Assigned Names).
Domain registration is governed by ICANN. Your domain name must, of course, be listed in the domain registrar, which is the central database where all domain names are kept. In actuality, domain names are managed and kept up by the domain registry. The registry delegated to domain registrars the responsibility of conducting commercial domain name sales.
You must have ICANN accreditation in order to register domain names. In exchange, domain registrars might provide you with domain names directly or via resellers. It's recommended to purchase domain names directly from domain registrars if you want an appropriate service.
The database of domain names registered under each TLD is kept up to date by domain registrars, who also assign domains to Name Servers. Domain name servers (DNS(opens in a new tab)) convert domain names into IP addresses and point web browsers to specific computers when they are typed into browsers.
Today, a wide range of domain names are accessible, from classic.com domains to more contemporary choices like.io or.ly. You might want to register several domains for your website, or a particular kind of name, like an emoji domain(opens in a new tab), depending on your requirements.
What Obligations does a Domain Registrar Have?
A domain registrar is in charge of providing registrants with domain name registration services. In light of this, it carries out a few significant customer service-related duties in accordance with the standards established by ICANN. The Internet Corporation for Assigned Names and Numbers is known as ICANN. It is in charge of organizing the Internet contact list and the global website IDs to enable a single, interconnected Internet. It is essential to operate with an ICANN-accredited registrar because of this.
The Registrar Accreditation Agreements (RAA), which outline the responsibilities of both parties, hold ICANN and an ICANN-accredited domain registrar in such a relationship. A domain registrar is required to fulfill the following obligations by RAA:
Numerous ICANN consensus guidelines must be followed by domain registrars. The Inter-Registrar Transfer Policy, the Uniform Domain Name Dispute Resolution Policy, the WHOIS Data Reminder Policy, the WHOIS Marketing Restriction Policy, the Restored Names Accuracy Policy, and the Expired Domain Deletion Policy are a few examples of policies. By doing this, ICANN hopes to guarantee a good level of service for everyone who registers a domain name.
To guarantee the accuracy of the data, a domain registrar must promptly update and populate WHOIS data. Users can look up domain and IP owner information in the WHOIS database, as well as a variety of other details about the domain name.
The most recent registration data must be submitted and updated by a domain registrar to registries. A registry is a company in charge of keeping track of certain top-level domains and the registration data that a domain registrar submits for them.
A domain registrar is required to give users open access to WHOIS data so they can look up details about a domain name. In the event that a domain name has problems, it is critical to have some openness and access to owner information.
All Registered Name Holders (domain name registrants) are required by a domain registrar to sign a registration agreement that contains certain clauses. The agreement provides a high level of clarity in handling domain name issues by outlining the laws and regulations pertaining to the domain name.
A domain registrar is required to look into complaints about incorrect contact information. Anyone can get in touch with a domain name registrant to handle domain name issues because their contact information is typically made available through WHOIS data. A domain registrar is required to conduct a thorough investigation if users report the existence of erroneous contact information in WHOIS.
In conclusion, a domain registrar has a variety of duties, but the most important one is managing any registration, transfer, or renewal requests made by users. Every time a consumer purchases a new domain name, the domain registrar is crucial in keeping databases updated. For the Internet to function properly, an accurate information database must be kept up to date.
Qualities of a domain registrar
You should bear a few things in mind when registering a domain name. Here are some things to take into account while selecting a domain registrar:
Dependability
Is the registrar likely to keep your site up and running? Maintaining uptime is crucial, especially if you operate an e-commerce business (opens in a new tab). Before making a choice, make sure to read the registrar's reviews.
Customer Support
Mistakes will unavoidably be made at some point. When they do, you'll need a registrar with top-notch customer support that can assist you in finding a swift solution. Reading reviews can be beneficial here once more.
Top-level domains
Different registrars provide different top-level domains. Make sure the registrar you select offers the TLD of your choice if you have your heart set on it.
Features
In terms of features, not all registrars are made equal. Some keep things basic with only domain registration, while others include extras like website builders and security features. Choose based on the qualities that are most important to you.
Domain Transfer Options
You'll need to transfer your domain if you ever want to change registrars. This process can be made simple or fairly difficult by registrars. Make careful to select a registrar with appropriate transfer options if you believe there's a chance you'll wish to switch in the future.
Reputation of the Provider
Choosing a registrar with a solid reputation is crucial because you'll be entrusting them with a lot of sensitive data. The reputation of a registrant can be learned a lot from a short Google search.
Cost
The costs charged by registrars vary greatly. Some have tiered price structures based on your required features, while others give discounts for large purchases. Before making a choice, be careful to compare prices.
Signs of a Good Domain Registrar
When determining whether or not your domain name registrar is reputable, pay close attention to the following:
Price
It's important not to undervalue the costs associated with building a website. This includes domain fees in addition to hosting and design. As a result, many trustworthy registrars employ tiered pricing schemes with low entry points. So it seems reasonable to be wary of drastically inflated domain registration fees. The typical cost to register a domain for.org and.com domains is between $15 and $25.
Automated Renewals/ Reminders
Registrars should permit automated renewals of the contract period for domains that have been owned by registrants for two or more years. Additional reminders assist in informing users when their contract is due to renew, giving them time to decide whether or not they want to continue.
A Wide Variety of TLDs
The two most common top-level domains are.org and.com. A registrant should provide a large selection of TLD ends, though, as there are numerous alternative endings available, such as.info and.net.
Free WHOIS Protection
You give the registrar business some of your personal information when you purchase a domain name for your website. Therefore, when working with a domain registrar, you must take data privacy carefully. Your data should not be made public by the registrar.
In accordance with ICANN regulations, domain users, or domain registrants, are required to store their contact information in the WHOIS database. Name, address, phone number, and email are included in this. Good registrars should, however, provide free WHOIS protection, where your data is substituted with registrar data, to preserve the privacy of registrants.
Always pick a registrar that you can trust to not sell your data to third parties or engage in unethical behavior. If you launch your website without doing this vital research, you'll be in a difficult situation.
Flexible Registration Period
The time frame during which a user wants to register a domain can be very different. This spans a few weeks to several years. The flexible registration durations of a few months, a year, or several years should therefore be offered by registrars. Users can choose the best deal this way without having to register a name for more time than is necessary.
Restricted Domain
Domains that can only be registered under specified circumstances include limited domains, such as the "business" domain extension (.biz) (in the case of .biz, for example, only businesses and companies may register). Registrars ought to provide these domains as well if at all practicable.
Transfer Charges and Procedure
The last thing you want is to pay a costly charge to transfer your domain to a different registrar if you are dissatisfied with the present domain registrar. Even though the majority of reputable registrars don't charge extra for domain transfers, it's always a good idea to review their policies in advance.
Some registrars go so far as to make moving difficult or even impossible. Check the domain transfer procedure before choosing any registrar to prevent that.
Other Services
The most practical option for end customers is to get goods and services from a single supplier. Because of this, registrars want to provide all-inclusive solutions or combination packages that include hosting, SSL encryption, website development, or the capability of multiple domain registrations.
Conclusion
The needs of the organizations differ when it comes to the domain registrar. It's crucial to choose the right registrar for your website. Research and compare prices, features, customer service, and other variables before making a decision.
See more types of web hosting