Home
» Best Managed Hosting Providers of 2022
Best Managed Hosting Providers of 2022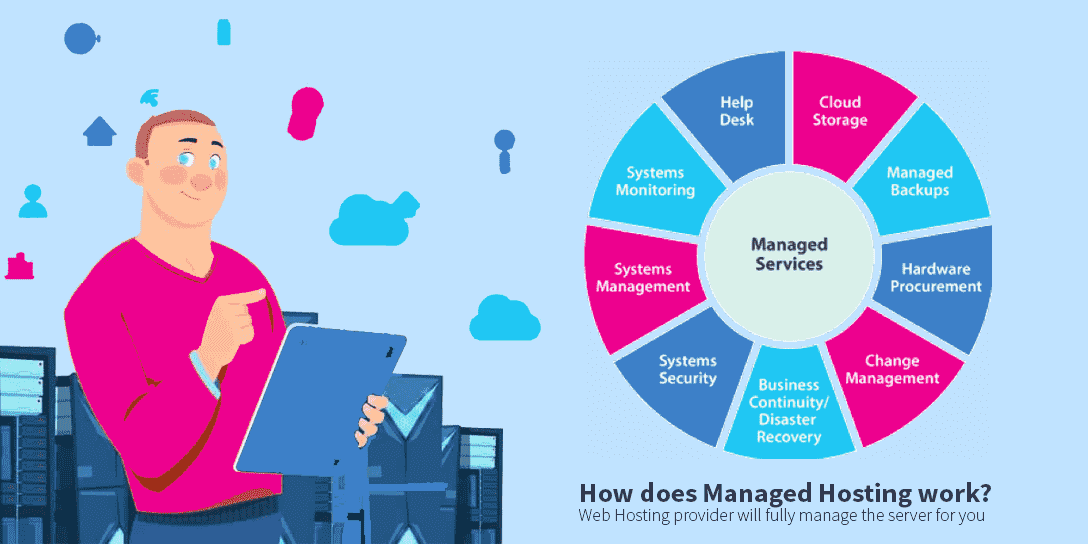 Web Hosting provider will fully manage the server for you
Managed hosting will be an effective solution to this problem. Let's learn more about what is managed hosting and besides helping you better understand the concept of what is managed WordPress hosting right in the section below.
Every company that has a website or a web application requires infrastructure. Because almost all websites, regardless of their purpose, are hosted on public servers. As you are aware, owning a website is not easy because websites and applications must all be managed and updated on a regular basis.
Meanwhile, many small businesses lack the expertise or personnel to manage websites or simply don't want to spend too much of their time on administration instead of business development. Managed hosting will be an effective solution to this problem. Let's learn more about what is managed hosting and besides helping you better understand the concept of what is managed WordPress hosting right in the section below.
Our selection of Best Managed Hosting Providers
PRICING
WordPress Hosting
$13.30 - $699.30
Dedicated Server
$169 - $549
Cloud Dedicated
$149 - $699
SERVER LOCATIONS
LiquidWeb with data center
United States, Netherlands
PRICING
Shared Hosting
$3.99 - $9.99
WordPress Hosting
$3.99 - $9.99
Dedicated Server
$99.99 - $800
SERVER LOCATIONS
Hostiso with data center
Canada, United States, Germany, France, Singapore, United Kingdom, Australia
PRICING
Web Hosting
$5.24 - $12.74
VPS Hosting
$8.24 - $431.24
Reseller Hosting
$5.24 - $8.24
Cloud Hosting
$0.006931/ hr
Dedicated Server
$122 - $1,316
SERVER LOCATIONS
HostWinds with data center
United States, Netherlands
LiquidWeb - Web Hosting starting at $13.30 /mo
LiquidWeb is a server hosting company founded in 1997 with three main offices. Their data centers located in Michigan, USA. LiquidWeb focuses on Smart Servers and VPS Hosting. So, their Web Hosting packages are more expensive than other providers. See more...
Hostiso - Web Hosting starting at $3.99/mo
First at all, i will talk about Hostiso which was found by the experienced members on hosting market. They have served hosting services to many customers around the world. Today, they have become one of the world's leading hosting service providers. See more...
HostWinds - Web Hosting starting at $5.24/mo
Are you looking for a quality VPS hosting or Dedicated Servers? You wanna check the quality of hosting providers before deciding use their products or services on long term? There are quite a few high quality hosting providers that allow you to try their one month hosting service for almost free price. See more...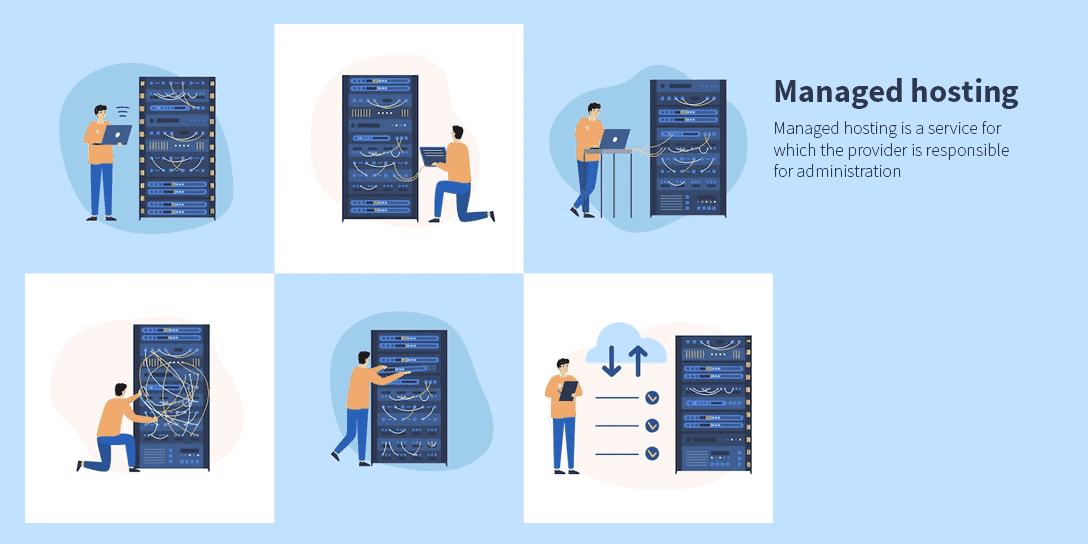 Managed hosting is a service for which the provider is responsible for administration
What is Managed Hosting?
Managed hosting is a service delivery model in which a service provider leases dedicated servers and hardware to a single customer and manages those systems on their behalf.
Simply put, managed hosting is a service in which the provider is in charge of administration, problem resolution, and the upkeep of hardware or resources. Managed hosting companies typically offer server rental services, as well as Web Hosting and VPS rentals, among other things.
Customers can rent equipment such as dedicated servers, storage hardware, network hardware, operating systems, and system software through managed hosting. The rental equipment only serves one customer. Customers frequently have access to the rental system but rarely use it, preferring to interact with the system via a web interface.
With managed hosting, the web hosting company continuously manages the server, hardware, and operating system. As part of the contract, hardware and other functionalities are frequently leased. Customers only need to take control of the website or application to concentrate on their work; all the technical management burden has already been taken care of. Additionally, users of a platform that loads swiftly, consistently, and without interruption will feel better.
Managed hosting is an effective option for:
Small business with a limited number of employees.
Online store with high traffic.
Online businesses need updated security features.
Websites need a powerful server.
How is Managed Hosting working?
The customer must have their own physical server in order to establish a colocation hosting arrangement. The customer is not renting a server from the hosting provider; rather, they are leasing space in the same way that they would at a storage facility. The customer transports the server to the colocation hosting provider's location, which is typically a data center. The customer only rents space within the data center or colocation site, but retains ownership and control over all server hardware and software settings. The customer can quickly upgrade or downgrade features like bandwidth and rackspace by communicating with the colocation hosting provider's team.
Advantages of Managed Hosting
There are numerous advantages to using managed hosting, including:
Cost and time savings
Small teams frequently lack the time and knowledge to manage hosting services on their own. Businesses and developers can save time and money by outsourcing their work to a managed hosting provider.
Improve performance and reliability
Managed hosting will optimize the server, CDN, and cache for your application, resulting in faster and more reliable performance.
Backup and advanced security
While public cloud providers include security features, managed hosting can implement advanced security measures such as firewalls, SSL management, self-discovery, and backup. repairing security flaws Your hosting provider can also perform regular backups for you, ensuring that your website's content is never lost.
Dedicated support
Managed hosting providers offer round-the-clock dedicated support. When problems or issues arise, a highly specialized technical team will intervene and quickly resolve them.
Pricing transparency
Unlike managed hosting, which will provide businesses with cost insights by offering subscriptions with fixed and transparent pricing, public clouds frequently have variable pricing.
Who is suitable with Managed Hosting?
Given the benefits and drawbacks of Managed WordPress Hosting, we recommend it in the following situations: Users who want to save time and money dealing with technical and security issues, would be ideal users!
Features of Managed Hosting
Some of the features that customers can expect from managed hosting include:
Backup and restore data.
Load balancing.
Security services, such as vulnerability scanning, intrusion detection, and denial-of-service (DDoS) prevention and mitigation.
Physical security measures to protect the data center.
Server configuration, maintenance and monitoring.
Application support.
Support to solve technical problems.
Common Managed Hosting Responsibilities
Different managed hosting companies provide a variety of services, and different businesses demand varying degrees of control over how their servers are run. Nevertheless, the following managed hosting services are offered as standard by almost every provider.
Security: Maintaining the security of an organization's systems, procedures, and confidential information is one of its top priorities. Typical actions taken include:
Configuring a firewall
Filtering spam
Virus checks
Upgrading the operating system
Observing servers: An essential part of maintaining a server's performance and security is scanning it for errors or potential threats. This is routinely done by the managed host provider to identify minor issues before they develop into significant disruptions. In addition, intrusion prevention and detection systems reduce server data breaches and unauthorized access.
A disaster recovery plan and backup: Some businesses fail to foresee the possibility of an event that would cripple their operations. 30% of businesses don't have a disaster recovery plan in place, according to InvenioIT. If that figure doesn't frighten you, a Touche Ross study claims that 90% of companies without a strategy in place will fail. Each year there are hurricanes, earthquakes, and fires. A managed host provider can back up crucial data and procedures so that your business can keep operating normally no matter what.
IT support: This may be the reassuring service provided by a managed hosting company. The more reliable service providers offer support through operators on the phone, email replies, or live chat agents who are available 24/7/365.
Server maintenance is a full-time, meticulous job, as any IT professional will attest. Your own IT staff can focus more on on-site functionality when a managed hosting provider manages the lifecycle of your server.
So, it starts coming to the Managed Wordpress Hosting, let's find out below!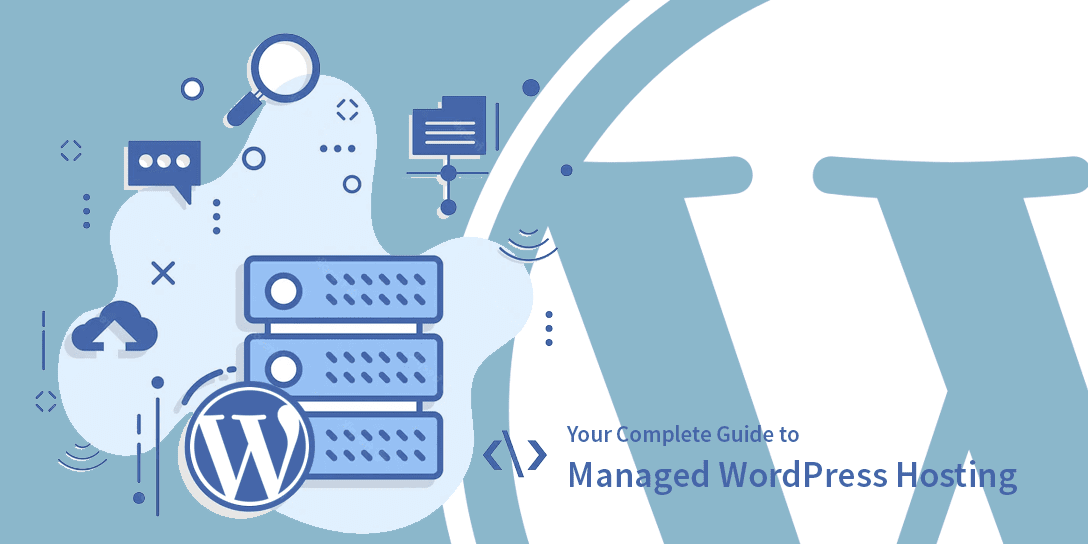 Your Complete Guide to Managed WordPress Hosting
What is Managed WordPress Hosting?
Managed WordPress Hosting, abbreviated as MWP, is similar to the concept of managed hosting discussed above. However, it will be an administration service specializing in WordPress and the hosting system. The distinction here is that MWP is a service managed by experts with extensive experience and knowledge of the WordPress platform.
When you choose this service, technical aspects of WordPress such as speed improvement and optimization, website security, daily backups, and so on will be addressed. You can refer to the section below to learn more about the service's benefits.
When you need to use Managed WordPress Hosting
You don't have time to worry about technical or security issues.
You want your website to be optimized for search engines in the best way possible but lack the in-depth knowledge or cost savings that hiring SEO companies provides. However, please keep in mind that this service will only optimize your website and provide SEO advice.
Your blog is too "busy" with visitors, or you have to write articles all the time. You need time to develop content and ensure that your blog does not become overly popular.
Want to have the best WordPress blog possible.
Benefits of Managed WordPress Hosting
If you or your company lacks the knowledge or a technical team to deal with WordPress website issues. Then this service is ideal for you, as it provides benefits such as:
Optimize performance and speed.
Check for security holes.
Configure Hosting and WordPress.
Resolves source code conflicts.
Handling malicious code.
24/7 support.
There are many other advantages, but these are really only for individuals or businesses with no knowledge or human resources. Today, hosting can be completely managed without any intervention. However, learning and practicing takes time.
The important roles that Managed WordPress Hosting brings
Managed WordPress Hosting is ideal for businesses that lack a technical team with in-depth knowledge to assist with WordPress Website issues. This is the best option if you have a high-traffic WordPress website.
Using Managed WordPress Hosting is effectively outsourcing the storage of data for your website. This service adds security, efficiency, and speed to your website. Simply assisting the Website in running smoothly without the need for additional support staff and lowering business costs.
Since Managed WordPress Hosting has no server restrictions, page speeds may become increasingly slow. This is because resources have been distributed to many sites, with little support. However, if you find a reputable Managed WordPress Hosting service provider, these issues will be resolved.
FAQs
What is Managed Hosting?
Managed Hosting is a type of IT provisioning model in which a service provider leases dedicated servers and associated hardware to a customer and manages those systems on their behalf.
What are the benefits of Managed Hosting?
Reduce your operating costs.
No additional support staff needed.
Expertise & Security.
Server Monitoring.
Support anytime, anywhere.
Backup.
What exactly is Managed Website Hosting?
A Managed WordPress site is one that was created using Managed WordPress Hosting. Essentially, you will delegate website hosting to a team of WordPress experts. If you have a high-traffic WordPress site, WordPress managed hosting may be a good option for you.
How is Managed Hosting different from a dedicated server that is not fully managed?
When using a server, you must be familiar with system administration. Companies will require personnel to manage the server. This necessitates extensive knowledge. Pose the following questions to your employees:
How deep is the understanding of the server's operating system?
The software required to run on the server in order to serve the business's website needs? Is it possible to install and update when a new version is released?
The ability to analyze the system log in order to optimize it for maximum system performance?
The ability to install security software on the server?
What about data backup capabilities?
What expenses are required to ensure that system administrators are available 24 hours a day, seven days a week to ensure that the server runs smoothly?
Not all IT professionals are capable of performing these duties. When a business expands, it becomes necessary to use more than one server; management personnel also require more knowledge of network administration, cluster systems, load-balancing, and so on. System availability requirements, as well as increased security. Can the current IT staff meet the increasing demand? The cost of personnel administration is another hidden cost. This is always a source of concern for any company. Increased human resources can have an impact on corporate culture in addition to salary.
Unlike managing an IT team, all system administration tasks are guaranteed by the provider when using managed hosting. A good service provider will always have experts to perform server maintenance and testing with a highly trained team.
When the server is guaranteed to run smoothly and websites and emails are always available, businesses can focus their resources on developing their customers without having to spend money on IT staff or worry about anything else. Concerned about the "health" of websites affecting the ability to conduct online business. These are the key reasons why we require Managed Hosting.
Note when choosing to buy Managed Hosting
When deciding to purchase Managed Hosting, consider the following factors:
Select Web Hosting that matches the server's speed.
Choose a reputable Managed Hosting provider with attentive customer service.
Website backups are supported by Web Hosting.
There is a free trial, and it is constantly upgraded and improved.
Full capacity, bandwidth, domain… features to meet user needs.
The information above provides a basic understanding of Managed Hosting and Managed WordPress Hosting. Hopefully, this article has answered your questions about what is Managed Hosting and what is Managed WordPress Hosting.
Contact us if you need anything!
See more types of web hosting