Home
» Best Email Hosting Providers of 2023
Best Email Hosting Providers of 2023

Detailed overview of Email Hosting
Online email hosting service is becoming more and more popular and chosen by many businesses. Overview of Email Hosting shared below will help you better understand this concept.
Currently, there are many businesses interested in and using online email hosting services. So what is email hosting and why is email hosting so trusted by many individuals and businesses? The following article will help you better understand the concept of email hosting as well as provide all the information you need to know about email hosting, follow along.
Our selection of Best Email Hosting Providers
PRICING
Cloud Hosting
$9.99 - $29.99
WordPress Hosting
$1.99 - $11.59
VPS Hosting
$3.49 - $77.99
Minecraft Server
$6.95 - $77.99
SERVER LOCATIONS
Hostinger with data center
United States, United Kingdom, Brazil, Indonesia, Singapore, Netherlands, Litva
PRICING
Web Hosting
$2.99 - $19.99
WordPress Hosting
$8.99 - $20.99
Reseller Hosting
$39.99 - $89.99
VPS Hosting
$4.99 - $190.00
Dedicated Server
$130.00 - $420.00
SERVER LOCATIONS
GoDaddy with data center
United States, Amsterdam, Singapore, India
PRICING
Email Hosting Small
$45 /year
Email Hosting Medium
$55 /year
Email Hosting Large
$65 /year
SERVER LOCATIONS
Mxroute with data center
United States
PRICING
WordPress Hosting
$1.00 - $100
VPS Hosting
$2.00 - $18.00
Cloud Hosting
$9.99 - $355
Dedicated Server
$45.00 - $140
SERVER LOCATIONS
Ionos with data center
United States, Germany, United Kingdom, Spain
PRICING
Reseller Hosting
£13.19 - £32.99
VPS Hosting
£14.29 - £37.39
Cloud Server
£34.79 - £104.45
Dedicated Server
£91.64 - £600.78
SERVER LOCATIONS
WHUK with data center
United Kingdom
Hostinger - Web Hosting starting at $1.99/mo
Hostinger is a premier web hosting provider that offers an array of hosting services for individuals and businesses. From shared hosting to premium hosting, business hosting, and cloud hosting, Hostinger has a solution to meet your needs. With its combination of cost-effectiveness and superior quality, Hostinger has quickly become a popular choice among small business owners, bloggers, freelancers, e-commerce businesses, non-profit organizations, and web developers alike. The provider's user-friendly website builder, powerful control panel, and advanced security features make it an excellent choice for those looking to take their online presence to the next level. See more...
GoDaddy - Web Hosting starting at $2.99/mo
GoDaddy is the largest domain provider in the world. However, the hosting packages of this company is not well known. This supplier was established in 1997 by Baltimore, Maryland and entrepreneur Bob Parsons. They serve more than 13 million customers worldwide, with more than 4,908 employees globally. See more...
Mxroute - Web Hosting starting at $45.00/ Year
You already have a domain name, you are already doing well with that domain but it is not enough. You need domain name email to complete the information and communication system with customers. However, you have not yet found a reputable address to believe. Let's find out about the email address domain which is popular with many customers now - Mxroute. If Mxroute is right for you, let us know! See more...
Ionos - Web Hosting starting at $0.50/mo
Ionos is a major domain name service provider in the world but due to its new open market in Southeast Asia it is not popular yet. In this article, I will guide you how to manage the domain is registered at Ionos. See more...
WHUK - Web Hosting starting at £3.29/mo
WHUK is a big brand on hosting market today. They focus to the pricing of their hosting Plans. With starting Hosting Plan only £3.29 per month. With the discount codes for Web Hosting UK, you will save alot of money when buy or use their services. See more...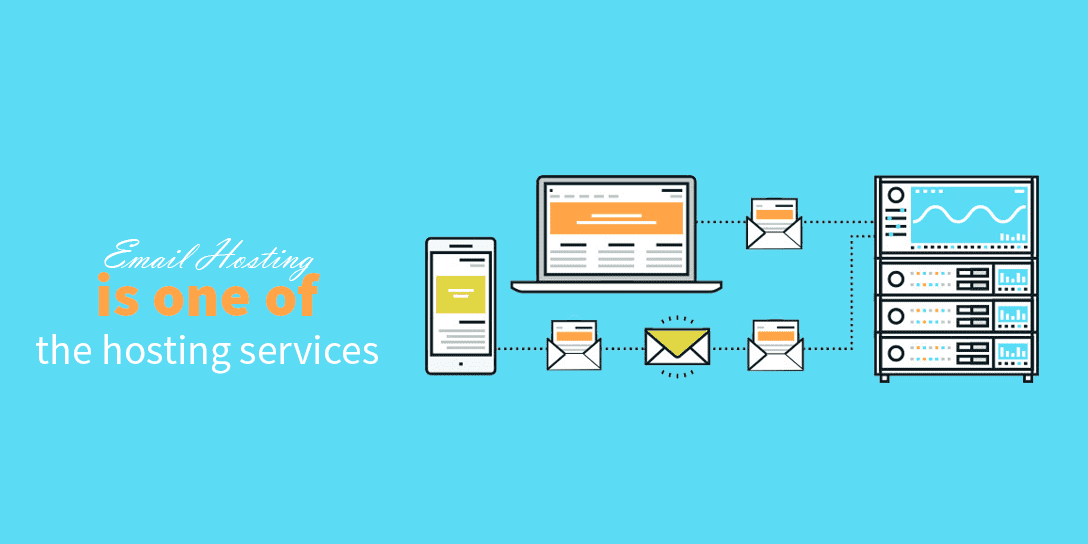 Email Hosting is one of the hosting services
What are Email Hosting Concepts?
Email Hosting is one of the hosting services, running on a separate server system with high security, added by hosting service providers. In addition, email hosting also allows you to customize the configuration and number of accounts
When your business uses email hosting to send information from the business, it will create a sense of professionalism and high reliability of the recipient. Because the professional mailing system includes the brand of the business.
However, using email hosting will be limited in storing emails because the capacity is not high. For businesses that have a small amount of email storage but still want to use professional email, email hosting is a good solution.
How to have an effective Email Hosting system?
Email Hosting has high security and some other great features that are very useful for business. However, you still need to know a few tips to be able to successfully advertise using this medium. What are the elements that make up an effective and optimal Email Hosting?
Choose a reputable service provider
Choosing a reputable server provider is the first thing to succeed with email hosting. A reputable supplier is always the first and most important factor. It is necessary to limit arising problems such as: information leakage, security errors, unnecessary technical problems. You can consult many different businesses before making a choice. However, a reputable and professional Email Hosting provider usually includes the following characteristics:
24/7 customer support.
Minimize spam mail, IP blacklist.
Maximum security with a dedicated Mail server system.
Provides an intuitive management interface, making it easy for users to use email.
Support to transfer information and data to customers conveniently.
Have a high rate of valid emails in inbox.
Emails are sent with notifications directly to other email boxes such as Google, Webmail, Yahoo…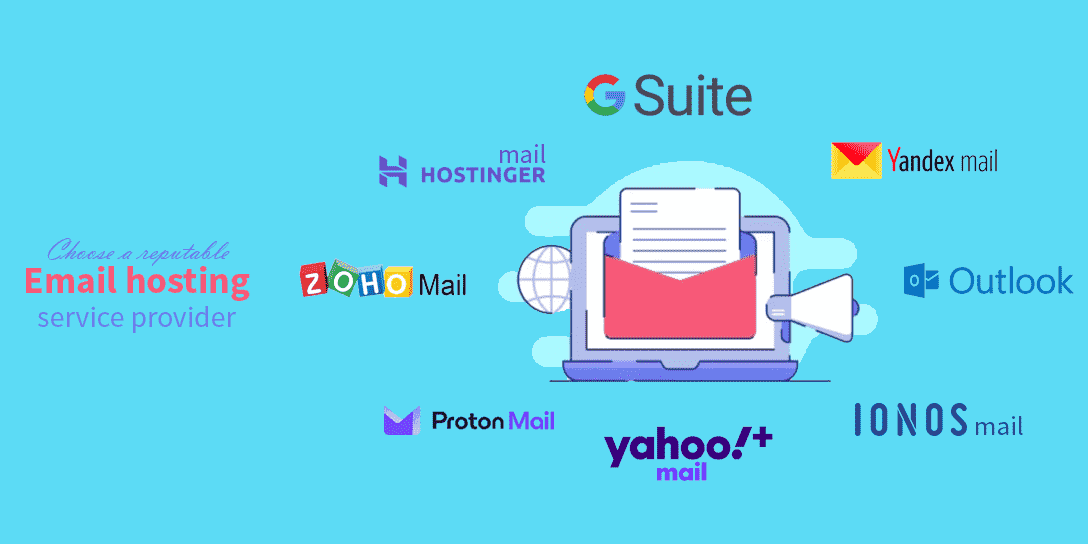 Choose a reputable Email hosting service provider
Select Email Name
The email name is the first impression on the recipient. Therefore, for email hosting to achieve its inherent effectiveness, the email name must meet the following requirements:
Choose a short name
Email Hosting allows users to set a unique domain name for the brand of the business. If the business has a short name, it can be kept the same; However, if the name is too long, you should abbreviate it for brevity. However, they still have to ensure brand recognition and absolutely avoid overlapping with the names of other organizations.
Naming the system of groups and departments clearly
Internally, naming emails to distinguish between groups and departments is necessary to avoid confusion. Besides, the email of each employee participating in the Email Hosting system should follow a uniform rule.
Create a unified structure
Should name the system of websites, blogs, social networks and other communication channels according to a unified structure to create professionalism among the promotion channels of the business. And yet, the addresses of these channels should use the domain name of the email.
Naming to avoid confusion with other businesses
Before naming Email Hosting for your business, you should learn in advance to avoid copyrighted domain names to avoid confusion. Even if unfortunately the organization with the same name is no longer active or has bad information accidentally, they will also affect your business.
Avoid sensitive naming
Pay attention to avoid using words that are easily misunderstood in meaning or are too difficult to understand to avoid creating a bad impact on the brand name.
Focus on protecting your Email Hosting system
Only choose a reputable provider to ensure that email hosting information does not leak out if there is a problem. Using Email Hosting service can bring many benefits to business. However, once something goes wrong, it will affect your entire email system. So choose reputable providers to enhance your information security.
Dissemination of clear regulations
When using Email Hosting, businesses need to disseminate clear regulations to individuals and groups on the use of email accounts such as: only using email for general company work; groups and departments should use separate emails to avoid confusion to effectively support customers; should disable accounts for employees who have quit their jobs to avoid bad cases happening…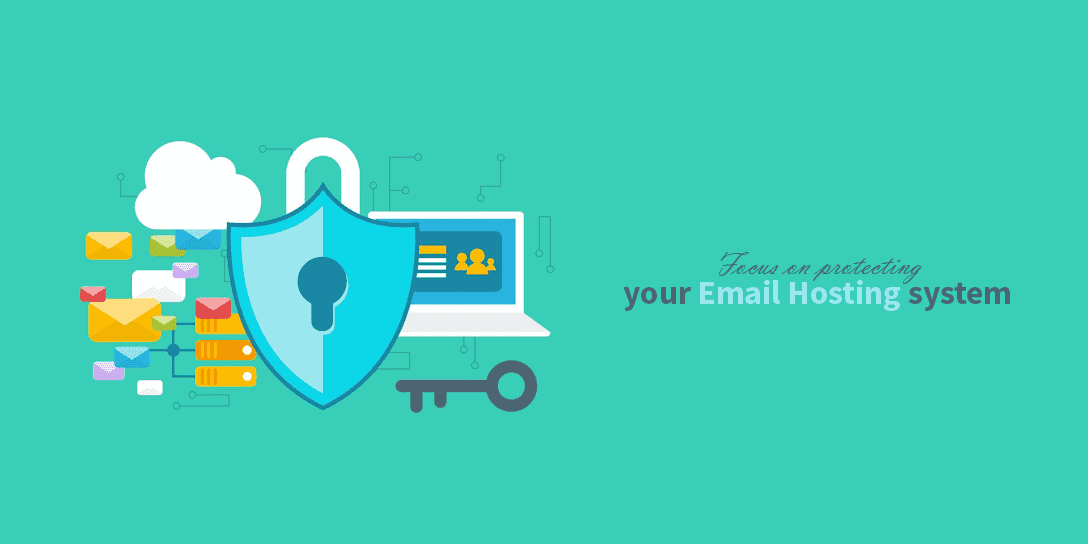 Focus on protecting your Email Hosting system
Benefits that Email Hosting brings
Using Email Hosting to send emails to customers helps organizations and businesses improve brand recognition with recipients. In many cases, email recipients just looking at the email name will immediately recognize that organization or business or immediately remember the products and services that that organization or business provides, thus increasing the rate. Opening and reading the recipient's mail will be higher than sending from other email addresses that are not Email Hosting.
Emails sent in the Email Hosting format will most likely not end up in the recipient's Spam folder. This is a great thing when every day a person can receive dozens of promotional emails, promotions of many brands, businesses…. Your email is put in the Main Inbox and will be able to Optimize the effectiveness of email campaigns of organizations and businesses.
Email Hosting is also known for its outstanding feature of large email capacity and the ability to store a large number of attached files. Therefore, it is difficult for the sender to be limited in terms of email content or the size of attachments. The content of the email will therefore be more refined, organized and beautiful, leaving an impression on the recipient.
The use of Email Hosting also brings cost advantages in the operation of small and medium-sized organizations and businesses. Some of the best web hosting providers are now free with large storage and account counts. Small and medium businesses (with the need to use about less than 1000 internal email accounts) can fully learn and use these providers: yandex, hotmail,… to optimize shipping costs. of organizations and businesses. In case you need to increase the number of accounts and use the capacity of the above hosting, businesses only need to pay a reasonable fee to solve their needs.
Operating according to the system, the security of Email Hosting is also highly appreciated. When a user logs in to Email Hosting, at the same time all data sent to and from the server will be encrypted until the user logs out. This will ensure that all user information is protected at the highest level.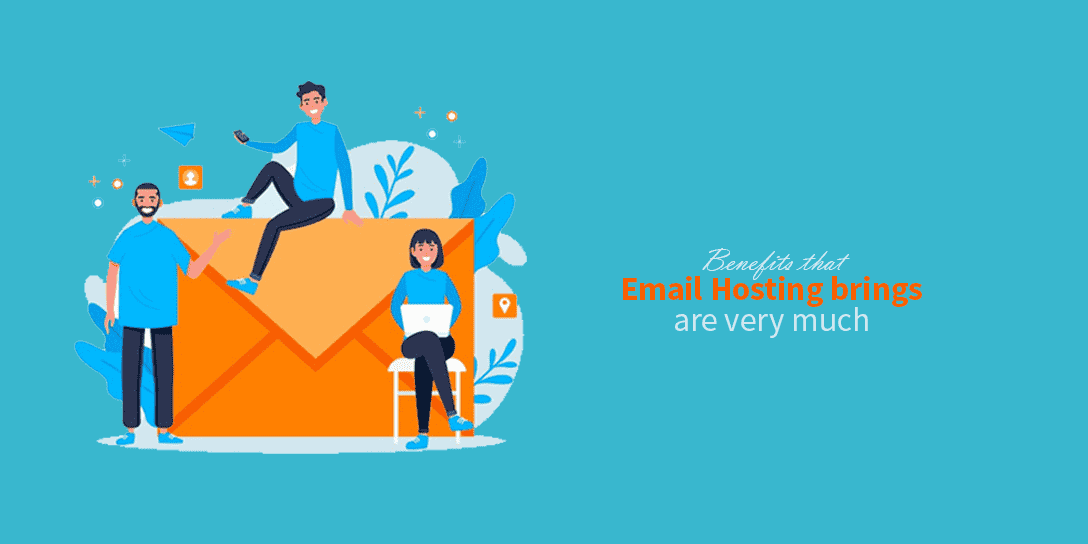 Benefits that Email Hosting brings are very much
Limitations when using Email Hosting
When an organization's personnel, businesses use Email Hosting to exchange information outside, that means that personnel is representing a collective to communicate. Therefore, in order not to affect the general image of the business, the use of Email Hosting needs to be unified among all employees on the system.
Email Hosting has a system-based mechanism, so to ensure the security of business information, when an employee quits, the human resources department of the business needs to immediately remove that individual's email.
How to choose Email Hosting
A professional, effective Email service needs to ensure certain factors. It can also be seen as a criterion for you to evaluate supplier quality. Each aspect will be analyzed in detail below.
Online Storage
The first thing to consider when it comes to Email Hosting is the ability to host it online. Thereby, you are provided with a record of all business transactions and communications. Some services offer 5- to 10-year backups. You can access it directly through the login portal and find it at any time.
Multiple mailboxes
Most growing businesses need the ability to create mailboxes quickly. Make sure that the Email host provides all the Inboxes to support any activity. Usually, people use separate mailboxes to categorize Emails based on functionality. For example the following:
A dedicated section for administration of web queries and services.
Special mailbox for receiving payment accounts.
Another box to save general contact information.
A specialized box for advertising, implementing Email Marketing campaigns.
Depending on the field of activity, the characteristics of the job as well as the needs, there will be many different mailboxes. This makes it easier for you to control the flow of incoming and outgoing information.
Package offer
You can use web hosting and Email Hosting at the same time. General packages help save costs and get many incentives. Besides, the overall management of the system becomes more logical. However, it is not advisable to focus solely on this feature when choosing a supplier. You should cooperate with a reputable place to avoid frequent errors or overload, stagnation.
Mailbox capacity
This is a very important criterion when making a decision to choose a service from a partner. Many people do not calculate in advance, resulting in insufficient usage capacity to meet daily needs.
You consider based on the average number of Emails processed per day, whether the attachment is large. That is the basis to ensure the working process is not interrupted. The state of budget waste is also much more limited.
Ability of extension
Determining the number of Emails or storage capacity is only approximate. There will certainly be changes when the size of the business increases, the workload increases. Therefore, you must consider whether scalability from the provider is easy.
If this criterion cannot be met, it is difficult for long-term cooperation. The transfer to another rental unit is also relatively complicated and takes a long time.
Is it possible to host emails on a private server
This is of course possible, but the setup is extremely expensive and harder to set up than you might think. If you choose to host your own email, you will need… a server. The fun doesn't stop there. Your server needs someone who knows how to manage it, so you'll need a good IT team. And that's not all. You also need to consider:
Hardware cost.
Limited network capacity.
Storage limit.
Software license.
It is your responsibility to back up your email data.
These are just some of the reasons most organizations choose a service over running their own server. There are many challenges associated with internal servers. These include insufficient security, failed backups, and difficulty syncing messages across multiple devices (desktops, tablets, and mobile phones). These are the things that can cause a crisis for a business.
Fortunately, there are many alternatives available to avoid the challenges outlined above. There are many advantages to choosing an email service provider instead of doing it yourself. Because of the competition, you have many options to measure the most suitable star. It will not cost much to register to use. Setup time and manageability are obvious reasons to choose a service over launching your own email server.
Why should businesses use Email Hosting?
Email Hosting has other features that serve effectively for communication in general and marketing in particular, namely:
Dedicated Email Hosting systems offer greater storage options for business communications. In particular, they also have an optimized format on a variety of popular electronic devices, such as smartphones.
Users can easily administer, customize the configuration and the number of email accounts in bulk. At the same time, Email Hosting also allows you to send messages with large files and high exchange rates.
High information security, easy monitoring and management of email on the publishing server and backup in case problems appear on this server.
The use of Email Hosting helps organizations and businesses not only increase brand recognition but also show a professional working style, integrating with the general trend of society. Moreover, email is always considered an effective marketing channel when it costs less, identifies the right target audience and has long-term effectiveness. Therefore, organization or business owners should spend time researching and opening Email Hosting to use for marketing activities in particular or operations in general of their organizations and businesses. Hopefully, the overview of Email Hosting shared above will be really useful for everyone.
See more types of web hosting