Home
» Best Unlimited Web Hosting Providers of 2023
Best Unlimited Web Hosting Providers of 2023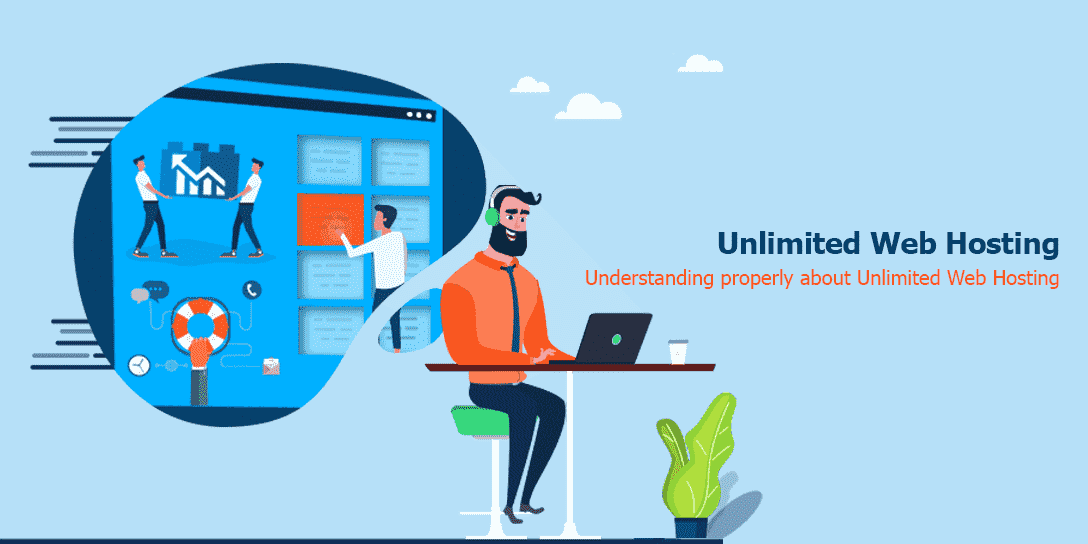 Understanding properly about Unlimited Web Hosting
Most hosting companies use the term "unlimited hosting". Although it brings a lot of customers to service providers, many experts on forums have opposed it. Why is this the case? Because many people use this term to provide poor quality services to customers, causing these service providers' reputations to suffer. We've spent countless hours scrutinizing web hosting companies over the past ten years so you don't have to waste time and money trying them out for yourself or worry about getting taken advantage of.
This comprehensive review will provide you with all the details you need to decide if Unlimited Web Hosting is worth your time and money if you are thinking about buying a web hosting plan from them.
Our selection of Best Unlimited Web Hosting Providers
PRICING
Shared Hosting
$2.99 - $7.99
Reseller Hosting
$12.99 - $45.99
Semi Dedicated
$15.99 - $39.99
Cloud Compute
$5.00 - $160.00
VPS Hosting
$5.00 - $160.00
SERVER LOCATIONS
HawkHost with data center
Canada, United States, Singapore, Netherlands, Hong Kong
PRICING
WordPress Hosting
$13.30 - $699.30
Dedicated Server
$169 - $549
Cloud Dedicated
$149 - $699
SERVER LOCATIONS
LiquidWeb with data center
United States, Netherlands
PRICING
Shared Hosting
$2.95 - $8.95
WordPress Hosting
$2.95 - $8.95
Reseller Hosting
$19.95 - $34.95
VPS Hosting
$39.95 - $109.95
SERVER LOCATIONS
GreenGeeks with data center
Canada, United States, Netherlands
PRICING
Web Hosting
$5.24 - $12.74
VPS Hosting
$8.24 - $431.24
Reseller Hosting
$5.24 - $8.24
Cloud Hosting
$0.006931/ hr
Dedicated Server
$122 - $1,316
SERVER LOCATIONS
HostWinds with data center
United States, Netherlands
PRICING
Web Hosting
$1.75 - $27.95
Reseller Hosting
$9.12 - $27.45
VPS Hosting
$10.95 - $130.9
Dedicated Server
$145 - $245
Site Builder
$3.50 - $ 27.99
SERVER LOCATIONS
StableHost with data center
United States, Netherlands, Spain, Switzerland, Singapore
HawkHost - Web Hosting starting at $2.99/mo
Starting a website can be a great way to reach a wider audience, showcase your work, or even start a business. The first step to launching a successful website is choosing the right web hosting provider. Hawk Host, headquartered in Vancouver, Canada, is a well-established company that has been in business since 2004. They offer various hosting plans, including shared hosting, reseller hosting, VPS hosting, and dedicated server hosting, and provide exceptional customer support to help you get started with your website. See more...
LiquidWeb - Web Hosting starting at $13.30 /mo
LiquidWeb is a server hosting company founded in 1997 with three main offices. Their data centers located in Michigan, USA. LiquidWeb focuses on Smart Servers and VPS Hosting. So, their Web Hosting packages are more expensive than other providers. See more...
GreenGeeks - Web Hosting starting at $2.95/month
GreeGeeks is reviewed 'Web Hosting friendly with environmentally'. Green Geeks are known for their clean energy when their servers get power from wind, this's mean doesn't have any carbon footprints for web sites hosted on greengeeks. Today, we are going to evaluate this hosting services. See more...
HostWinds - Web Hosting starting at $5.24/mo
Are you looking for a quality VPS hosting or Dedicated Servers? You wanna check the quality of hosting providers before deciding use their products or services on long term? There are quite a few high quality hosting providers that allow you to try their one month hosting service for almost free price. See more...
StableHost - Web Hosting starting at $1.75/mo
I've heard about StableHost many times in the past, but I never tried them until late 2013. I was skeptical at first because everyone raved about how great they were despite being cheap. I have no problem with people sharing their positive experiences but I thought something was fishy as their prices seemed too cheap for quality services. I decided to give them a go to find out what the catch was, and surprisingly, after two months of being with them, I found out that there was no catch! See more...
About Unlimited Web Hosting
The term "Unlimited Hosting" describes web hosting plans that include limitless data transfer, disk storage, and, in some cases, limitless add-on domains and websites. Technically speaking, no company can host "unlimited" websites (more on this later), but no-limit hosting plans are still very popular because they significantly lower the cost of hosting multiple sites.
Choosing a hosting plan with unlimited bandwidth is critical for large websites, which frequently experience high traffic, as it ensures the website is always available. When bandwidth is limited, the website may display an unavailable message, resulting in customer loss or a decrease in the website's ranking on search engines, particularly Google.
Unlimited Hosting plans typically include unlimited databases for setting up your website, unlimited subdomains for setting up different parts of your website such as blogs, shops, customer logins, and unlimited email accounts. If you choose a hosting plan with unlimited disk space, you can host large websites because you have unlimited storage space for files. For e-commerce sites that need to display a lot of high-quality product images or have a large product catalog, unlimited storage space is especially useful.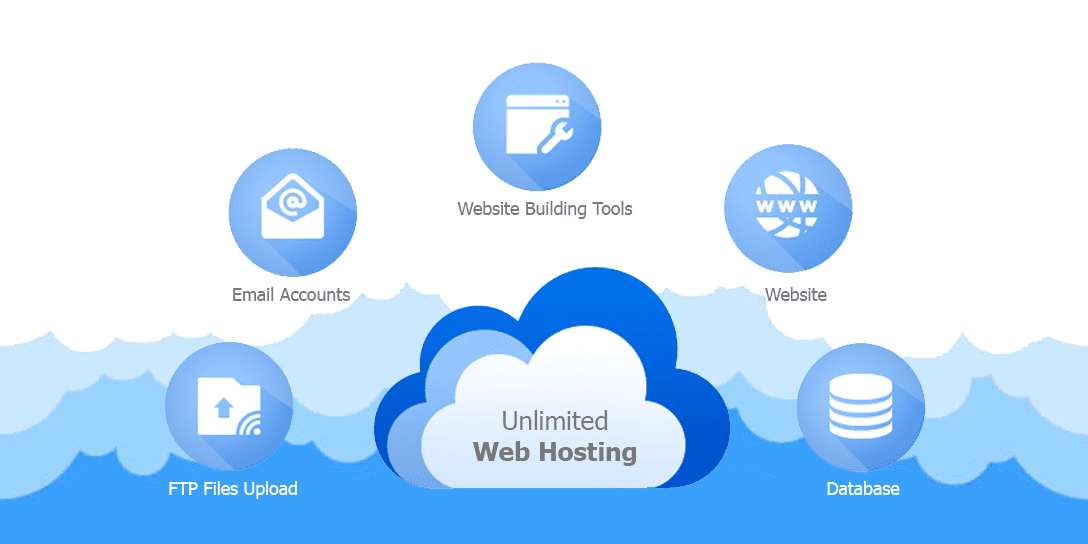 Some features of Unlimited Web Hosting
Features of Unlimited Web Hosting
Unlimited Web Hosting provides a variety of low-cost cloud web hosting services that can help you get your blog, website, or store up and running quickly, as well as access to their cPanel certified support staff, which is a huge plus. You can find the Unlimited Hosting company that should have these features:
Web hosting that is shared.
Web Hosting Reseller.
Web hosting with cPanel.
Web hosting with Plesk.
Web Hosting on VPS.
Web hosting that is Dedicated.
Domain Name Registration.
Hosting for WordPress.
To fully comprehend what they mean when they say "Unlimited," you must first become acquainted with their General Terms, which can be found here under section 6.5 "Unlimited" features.
If you are a small business owner or a freelance web designer on a tight budget, this is a great service to start with, but you will not have server performance to be proud of, as you get what you pay for.
You can, however, choose the Premium plan, which provides twice the server resources for twice the price, but you can get far better cheap web hosting services for the prices they charge for the premium plan.
What does Unlimited Hosting really mean in Web hosting?
Many people believe that unlimited hosting only refers to the issue of bandwidth. In fact, this may not be the case. Unlimited Web hosting also includes disk space, data transfers, e-mail and FTP accounts. In some cases, even customer service.
This means that the scope of the term "unlimited Hosting" varies depending on the Hosting service provider. It is not incorrect, but you should exercise caution to avoid being disappointed later when using their Hosting service.
When you see or hear the term "unlimited Hosting" in web hosting plans. This could imply that you can host an unlimited number of Websites with no "abuse" of resources. Alternatively, you will not be charged any additional fees for the bandwidth and disk space that you are using. Most of us recognize that unlimited hosting is an infinite use of resources. Not all resources, however, are labeled as unlimited Hosting.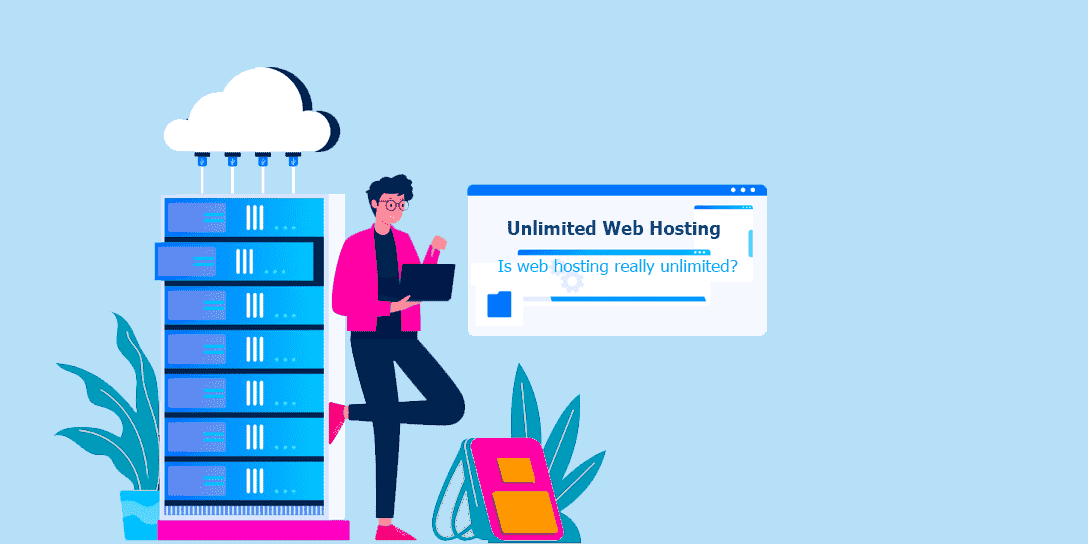 Is Web Hosting Really Unlimited?
Most hosting plans aren't completely unlimited. Instead, there will be reasonable usage limits, but these are usually set so high that most users will never exceed them.
As hosting plans initially use shared resources from a single physical server, an unusually large amount of data usage by a single user can have a negative impact on website hosting. of other users who share the same server As a result, when using hosting from a single provider, there will usually be some limitations in place to protect all users.
Furthermore, the scope of the term Unlimited Hosting will vary depending on the hosting service provider. As a result, before purchasing hosting from any provider, you should educate yourself and think carefully to avoid disappointment later.
Benefits of using Unlimited Web Hosting
Choosing to use Unlimited Hosting service, you will receive the following benefits:
Easy to use
You can easily create multiple domains on one hosting account when using Unlimited Hosting, allowing you to host multiple websites, blogs, forums, online stores, and so on.
Better Control
Owning an Unlimited Hosting service package gives users complete control over Internet platforms through a single control panel. Furthermore, users can complete their online tasks more quickly and easily.
Affordable price
If you want to build a website at a low cost, Unlimited Hosting is the best option for you. With this service, you can optimize your website to meet the requirements and plans you established before launching it.
Don't be concerned about being impacted by traffic
Website owners are frequently unable to predict sudden changes in daily traffic. This is, however, entirely possible with Unlimited Hosting. This is an excellent solution for assisting website owners in limiting the situation of website intrusion.
Stay away from downtime
Using an Unlimited Hosting service also has the advantage of reducing downtime on your website. Many companies and businesses are hampered by this issue, making online business difficult. However, having unlimited bandwidth will assist users in avoiding this situation.
With less downtime, you have more opportunities to reach out to potential customers, increasing profits. Everyone wants their website to work reliably in any circumstance.
Care Service
Web hosting companies offer specialized technical support for your convenience if your website or server experiences technical difficulties. So you don't have to be concerned about technical issues. This will assist you in lowering the overall cost of the services.
Compatibility and Optimization
With the advent of integrated technology, selecting utilities for a business's smooth workflow is no longer a headache. However, the website requires all of the minimum requirements to be optimized and, thanks to cloud services and virtual data storage facilities, it does not face compatibility issues.
Check for Dead Links
Your unlimited hosting provider will check your site's rankings and usability on a daily basis for dead or damaged links. As a result, it is possible to avoid financial loss for your company in a timely manner.
Daily data backup
Unlimited hosting companies will provide you with a method of daily data backup, allowing you to restore valuable data even if the server crashes.
Conditions that come with Unlimited Hosting
Many unlimited storage plans include restrictions such as:
Hosting must not have a negative impact on the experience of other subscribers.
For sites that grow too quickly, unlimited space is not guaranteed.
An excessive number of files will have a negative impact on server performance.
To avoid affecting other subscribers, the server may limit processing time, bandwidth, or memory…
This demonstrates that the so-called unlimited storage is, in fact, constrained by a variety of factors.
How to use Unlimited Hosting properly and correctly?
Just keep in mind that nothing is unlimited, everything has a limit. The only difference is the amount we pay for those service packages. As an example of disk space, 10GB would be the maximum limit for shared hosting plans with most companies. Unlimited bandwidth based on overall server traffic usage.
For example, server A is allotted 100GB of bandwidth per day and hosts 100 websites. If 99 sites each use 1GB of traffic, your server's traffic limit is 99 GB. In contrast, if 99 sites use 99GB, only 1GB is left for you, and using more may be considered overload. The master resource is only shared by all sites.
Before you commit to something unlimited, we recommend that you calculate the cost of the service.
For example, if you have to pay a million dong per month for 100GB of storage, you should find out how your provider will allocate that amount of space to you. Keep in mind that any type of service must first be profitable for the hosting company, so be wary of plans that are too cheap.
Should you choose Unlimited or Limited Hosting?
In a market where everything is limited, unlimited services are more common. Sure, if the hosting provider could provide a reasonable limit on their site, users would be safer. On the site, there are very few providers with clear usage limits. A common limit on limited hosting plans is 1GB or 3GB, but we can get up to 10GB with unlimited storage plans. Unlimited storage has more advantages in this regard.
So we can't say that unlimited hosting is bad and limited hosting is perfect. We simply need to understand how much we require and avoid wasting resources. If we require more than 10GB of disk space and more traffic, the premium hosting plans are the best option. Instead of complaining to a hosting provider, we can assess our actual needs as well as the business's underlying logic.
To let you know easier, unlimited hosting is advised if:
You are a startup that requires unlimited access to the server's resources to host your business website.
You have a CMS that is not WordPress: Unlimited hosting may be the best option if you have Magento, Drupal, OpenCart, or any other CMS.
More room: With unlimited hosting, you no longer have to be concerned about storage space, mailboxes, databases, and so on.
Criteria to help choose the right Unlimited Hosting
Choosing a reputable and high-quality unlimited hosting service provider is difficult because there are so many of them today. As a result, we will provide you with the criteria for evaluating a supplier, and you will be able to choose the best one for yourself based on your needs:
Bandwidth
The amount of data traffic consumed when someone accesses it is referred to as bandwidth. Your customers can access the internet thanks to the bandwidth. Before hiring a company, think about how much traffic your website requires. To limit access problems for users, choose companies that provide unlimited bandwidth. These negative experiences will cost you potential customers and reduce your revenue.
Storage resources
Any business requires a resource large enough to house all of its storage. Unlimited storage, like unlimited bandwidth, allows you to accommodate large data files, images, or videos with maximum resolution.
For example, if your website is a blog with articles about daily life or current events, you will not require a lot of storage space. If your blog focuses on images and videos, however, choosing unlimited hosting will provide users with a more positive and enjoyable experience because the images and videos are sharp and true.
Domain Name
Unlimited domains does not imply that you have multiple domains. If you have multiple websites running at the same time, having unlimited domains will save you money. As a result, when selecting an unlimited hosting service provider, it is critical to ask whether or not the unlimited domain name is included in the package.
This is known as an unlimited add-on domain, and it means you won't have to limit the number of sites you want or need to set up for your expanding business. This is especially useful if you are constructing an empire with multiple websites that must run concurrently.
Final Thoughts
The concept of unlimited Hosting will also differ depending on the provider. Typically, the difference in unlimited Hosting will be found in the three criteria mentioned above. We hope you found this article useful and can have a clear perception about the Unlimited Hosting! Contact us if you need anything.
See more types of web hosting