Dedicated.com Review Summary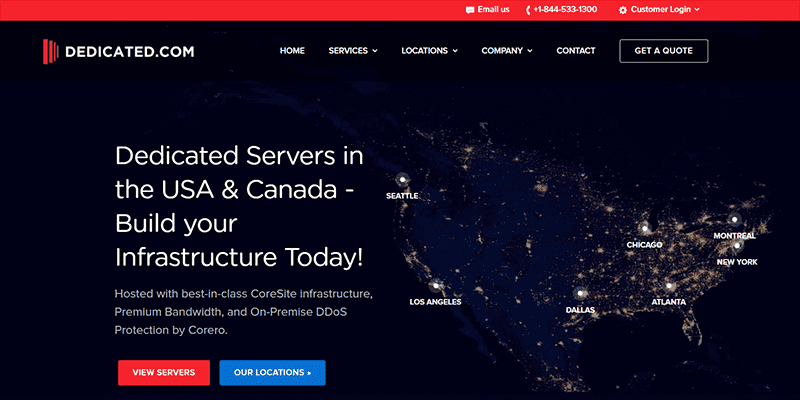 Dedicated Servers in the USA & Canada – Build your Infrastructure Today!
Dedicated.com Overview
Dedicated.com is a leading hosting provider that offers a range of scalable solutions for businesses. With a focus on dedicated servers, colocation services, and VPS, Dedicated.com provides high-volume businesses with maximum performance, robust security, and peace of mind.
Since its establishment in 2013, Dedicated.com has been dedicated to delivering custom hosting solutions that meet the unique needs of its clients. With six top-class data centers located in the US (Atlanta, Chicago, Dallas, Los Angeles, New York City, and Seattle) and one in Canada (Montreal), Dedicated.com has built a powerful infrastructure that ensures 100% uptime and free DDoS protection for its clients.
Dedicated.com's website is user-friendly and easy to navigate, and all prices are displayed in US dollars. The company's commitment to customer satisfaction is evident in its exceptional support and expertise, which are always available to help clients get the most out of their hosting solution.
In conclusion, if you're looking for a hosting provider that offers a range of scalable solutions and is dedicated to delivering custom hosting solutions, Dedicated.com is the perfect choice. With its top-class data centers, robust security, and exceptional customer support, Dedicated.com is poised to help businesses take their online presence to the next level.
Features of Dedicated.com
Effortless Use
Are you tired of struggling to keep up with the demands of a high-traffic website? Look no further than Dedicated.com, a company dedicated to providing effortless and customizable solutions for businesses that require top-notch performance and robust security.
For websites with high traffic volumes, Dedicated.com provides a selection of instant dedicated servers that may be configured to your specifications. Key attributes of dedicated servers include:
5 functional IP addresses.
100% uptime SLA Custom Control Panel for Synergy.
iKVM/IPMI access.
Supports a range of Linux variants as well as Windows.
Different storage options, including HDD, SSD, and NVMe, are available with rapid deployment dedicated servers, and the maximum disk space is 2x 2TB. I suggest using SSD or NVMe if you want blazing-fast performance.
Free on-site DDoS protection is included with every service offered by Dedicated.com. Each of its 10Gbps ports travels via a Corero Smartwall Appliance effective of filtering out a 10Gbps line-rate DDoS assault, as opposed to installing an independent detection system that leaves your servers susceptible for a small period of time before the incoming attacks are noticed.
These security procedures make sure that your server defenses are constantly active and that there is never any downtime, not even during the dreaded DDoS attack's early phases. Oh stop for a moment, if you want to learn more about other server providers check out Best Dedicated Server Hosting Providers for other options, otherwise continue with them I.
But that's not all. Dedicated.com also offers VPS hosting options, complete with a SolusVM management console, individual server resources, and the choice between 10 GB and 320 GB of SSD storage. With the VPS hosting packages, you can enjoy the same level of security and reliability while spending less on resources. And with the SolusVM management panel, managing multiple servers and operating systems has never been easier.
In a world where online presence is crucial, choose Dedicated.com for a scalable solution that meets your high-volume business needs.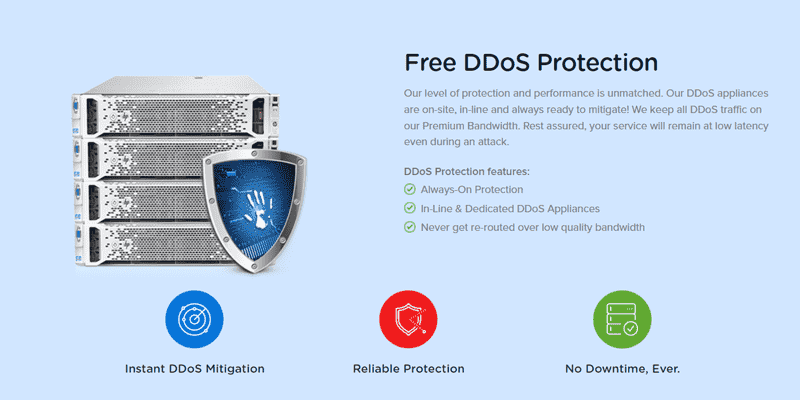 Free DDoS protection is included in every service offered by Dedicated.com
With the VPS hosting KVM or OpenVZ packages from Dedicated.com, you could spend less if you require fewer resources. The following are some VPS hosting features:
SolusVM management console.
SSD drive with complete root access.
Individual server resources.
You can choose between 10 GB and 320 GB of SSD stor.
For VPS users, a SolusVM management panel is a fantastic choice. For instance, installing various operating systems and controlling multiple servers from a single pane is simple.
Great Support
You're in good hands thanks to our 10+ Years of hosting & data center experience. Dedicated.com is available to help you whenever you need it and is committed to doing so.
A minor knowledgebase is available on the website, however, it is insufficient to address intricate technical problems. For each service offered, a FAQ section is also available.
You can send an email, call, or start a support ticket to contact customer service. For example, users submit a support ticket to request additional information because the website indicates that Dedicated.com provides managed hosting. Within eight hours, they will have a reply to them.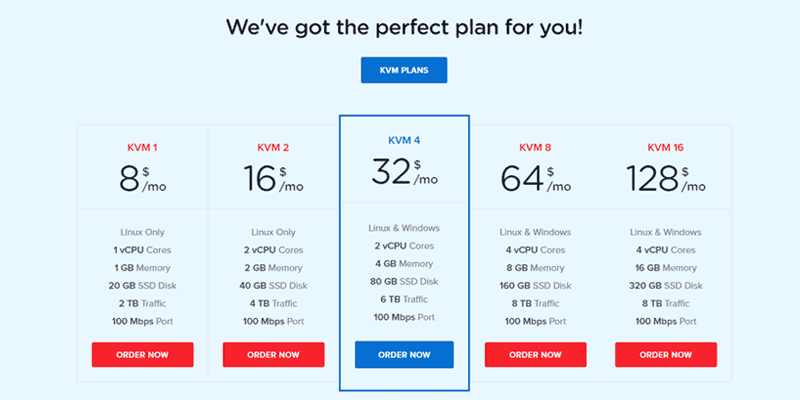 Dedicated.com has the perfect hosting plan for you!
Types of services of Dedicated.com hosting
The primary product lines of Dedicated.com include dedicated and colocation services, virtual private servers, and private cloud hosting.
Let's dive into how each type provided by Dedicated.com hosting works and which one is suitable for your business.
How can businesses use dedicated services?
Does your company fit into any of the aforementioned categories? If so, you have the power to give your website access to a plethora of fresh opportunities. Dedicated servers give you the strength, speed, and pace you need to succeed, greatly reducing downtime for your company.
Dedicated servers are frequently used by organizations with massive volumes of data or popular websites. Because they require a high level of security and availability, large organizations may use dedicated servers. Smaller companies, however, could also profit from the services a dedicated server offers. Businesses normally manage their own dedicated servers internally, but they can also rent dedicated hosting from a third party. Knowing how many people visit your website will help you decide whether you need to switch to a dedicated server.
Here are a few further applications for a dedicated server:
Preserving private financial information
Dedicated servers frequently provide top-notch security and safety for vital accounting and financial data for firms. An example of a company that uses a dedicated server to store financial data is a banking institution. Dedicated servers can be used by brokerages and investment firms to protect financial data and limit access to authorized users.
Collection of patient data
For record-keeping in the healthcare sector, security is also crucial. So as to protect sensitive data, including health and insurance records, medical companies frequently use dedicated servers. For instance, a hospital might set up patient information, statistical data, and staff details in its data on a dedicated server to guarantee data security.
Keeping an eye on client service and sales
Having dedicated servers might be advantageous for online business operations as well. This happens because a dedicated server offers defense against dishonesty, bugging, and hacking efforts. An e-commerce site, for instance, might use dedicated servers to safeguard the credit card data of its user base. This is a useful tool for online buying transactions because it secures personal information including mailing and delivery addresses, purchase history, and dates of birth.
Who requires a dedicated server?
If you own or manage any of the enterprises listed below, you could require a dedicated server.
With 500+ people, midsize to large businesses manage a lot of data. If your business uses databases, has a sizable infrastructure for its inventory and supply chain, and conducts thousands of e-commerce transactions every hour, you should invest in a dedicated server.
Dedicated servers are required by system administrators, programmers, and information technology companies who need to host resource-intensive online applications such as custom software, API-driven apps, software as a service, and e-commerce websites.
To host the websites of their clients, organizations and web hosting resellers require dedicated servers. They can manage their clients on a dedicated server rather than having to handle numerous hosting accounts with various providers.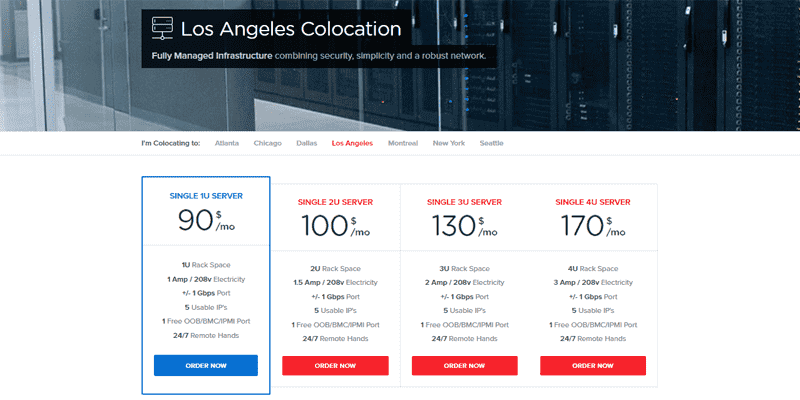 Fully managed infrastructure for server locations in Los Angeles
How can businesses use colocation services?
The act of storing privately owned servers and networking hardware in a different data center is known as colocation. It is possible to "co-locate" equipment by renting rooms in a colocation data center as opposed to the in-house scenario where servers are housed within a room or a portion of a company's own business infrastructure.
Colocation in a data center may be the best option for any company, regardless of its size or sector. Let's examine the advantages.
Uptime
With Dedicated.com, enjoy unparalleled uptime that only comes with enterprise-grade data center solutions. As a valued client, you'll receive a guaranteed percentage of uptime as part of your chosen tier, with no additional costs for maintenance or personnel. Experience the peace of mind that comes with reliable and efficient network performance, 24/7.
Management of risk
In case of a natural disaster or an outage, using a colocation center assures business continuity. This implies that network traffic won't be impacted if your business location loses power.
Replication is the secret to its success. A lot more intricate layers of redundancy are available at a colocation data center than many businesses can afford internally. While keeping backup copies of the data on-site, some corporate companies will see the off-site address as their primary information storage location.
Security
The most recent security technology is installed in data centers, including cameras and biometric readers. Check-in desks are available to greet visitors as they arrive, and security badge checks are frequently performed.
Both physically and digitally, these facilities are watched over constantly and 365 days a year to prevent unauthorized access.
Cost
One of the key benefits of colocation is the huge cost savings it produces, especially when compared to managing a data center internally. This implies that for many businesses, renting the space they require from a data center is a workable answer to the IT budgets that are constantly getting less.
When needs colocation services?
Reliability and Redundancy
Your IT infrastructure can be housed in secure, multiple environments thanks to colocation. Your sensitive information may be compromised in countless ways. Office relocation, power outages, security threats, careless equipment management, and natural disasters are just a few examples. Because of this, it is crucial to make sure that data is stored in a secure environment with proactive assistance.
Your IT infrastructure will be protected to the best of its ability by colocation providers. Most data center locations offer on-site support that is available around the clock. Facilities will also have several backup mechanical systems and generators to ensure that services are not disrupted – under any circumstances.
Connectivity and Scalability
You couldn't provide your goods and services to customers without a safe, dependable connection. As a result, the data center's connectivity is crucial. Access to high-quality bandwidth is made possible by data centers. This makes sure that websites are operating as quickly as possible, enabling quicker downloads and the capacity to handle more traffic. If problems do occur, the support staff is ready around the clock to diagnose and swiftly return to peak performance.
A colocation facility is flexible enough to grow along with your business as it gains more customers and grows. The ability to tailor solutions to meet specific industry needs accounts for a significant portion of colocation's value.
Through colocation, businesses can affordably gain access to faster networking and more reliable connectivity. You can concentrate on your main line of business because colocation providers are experts in data center and network services.
How does VPS service work?
Your web host maintains the databases and files necessary for your website on a server. Every time a website visitor requests access, their browser makes a request to your server, which then sends the required files across the internet. You receive a virtual server through VPS hosting that looks like a physical server but is actually shared by many users. If you are looking for cheaper VPS Hosting packages, we have this article Best Cheap VPS Hosting Providers, all of them are leading the hosting market, and you will probably find a better provider.
Your hosting company adds a virtual layer on top of the server's operating system (OS) using virtualization technologies. Each user can have their own independent OS and program installations thanks to this layer, which also isolates the server.
A virtual private server (VPS) combines the concepts of virtuality and privacy because you have complete control. It is segregated from other web servers at the operating system level. VPS technology is essentially the same as building a system on your own machine when you want to operate more than one OS (including Windows and Linux) without having to restart your computer.
Your website can be set up on a virtual private server (VPS) with assured resources that you don't have to share with other users. With VPS hosting, you receive root-level access just as you would with such a dedicated server, but at a far lower cost.
VPS hosting provides its consumers with a number of advantages, including various components.
Scalable
The VPS hosting platform is highly scalable and independent of physical servers.
It gives you the freedom to alter your chosen hardware or software setups and still execute the application.
No technical knowledge
Necessary It doesn't need sophisticated technological support. You can connect virtual private servers easily by using GUI control panels. You may easily (manually) install and set up your application using these panels.
Root access
Because VPSs operate independently, you have the power to control your virtual server. It enables you to change things to fit the needs of your website.
Reliability
The VPS hosting service often maintains uptime ratings of 99.5% or higher on a conventional level.
Better Security
Unlike shared hosting platforms, the VPS hosting site does not share space, therefore security is a comparatively higher concern. No one can access your files or use extra resources, bad scripts, or user errors to fill up your storage.
Who requires a VPS
Most business owners are still unsure of whether they need a VPS or another type of hosting platform. You must absolutely switch to a virtual private server if any of the requests fit the guidelines below.
Your company is booming, so you need a more flexible server.
If you need more management over your hosting server than a shared server can provide.
Do not want to make significant transactions or experience abrupt website crashes but have eCommerce websites.
Wish to execute sophisticated software or applications.
If you want a server that is affordable, private, and reliable.
If your website draws a lot of traffic and you have to deal with a lot of everyday visitors.
Frequently Asked Questions about Dedicated.com
If you're a business looking for high-performance and secure hosting solutions, Dedicated.com might be the perfect choice for you. With an array of hosting services, state-of-the-art data centers, and robust security measures, Dedicated.com offers scalable hosting solutions to meet the needs of high-volume businesses. Here are ten frequently asked questions about Dedicated.com to help you get started on your hosting journey.
What kind of hosting services does Dedicated.com offer? Dedicated.com offers a wide range of hosting services, including dedicated servers, VPS hosting, colocation services, and private cloud hosting, designed to meet the needs of high-volume businesses that demand maximum performance and security.
Where are Dedicated.com's data centers located? Dedicated.com has multiple data centers across North America, with six located in the United States and one in Canada, providing high-speed connectivity and minimal latency to users.
What kind of security does Dedicated.com provide? Dedicated.com takes security seriously and provides free on-site DDoS protection from Corero for all their hosting services, ensuring top-notch security and 100% uptime SLA.
Does Dedicated.com offer managed hosting services? Yes, Dedicated.com offers managed hosting services for dedicated servers and private cloud hosting, making it an excellent choice for businesses that require technical expertise and support.
What operating systems does Dedicated.com support? Dedicated.com supports a variety of Linux distributions and Windows operating systems, providing users with flexibility and choice.
What kind of control panel does Dedicated.com provide? Dedicated.com offers a custom-built Synergy control panel for dedicated servers and SolusVM control panel for VPS hosting, making it easy for users to manage their hosting environment.
What are the prices for Dedicated.com's hosting services? Dedicated.com's hosting prices vary depending on the service and resources required, but their VPS hosting plans start at just $4.00 per month, while dedicated server plans start at $39.99 per month.
Does Dedicated.com offer any refunds or a free trial? Unfortunately, Dedicated.com does not offer any refunds or a free trial, so it's essential to ensure that their hosting services are the right fit before signing up.
What kind of customer support does Dedicated.com offer? Dedicated.com provides support via support ticket, phone, and email, and their website also features a knowledgebase and FAQ section to help users find information and answers to common questions.
Does Dedicated.com offer shared hosting? No, Dedicated.com does not offer shared hosting solutions. Instead, they focus on providing scalable hosting solutions for businesses that require dedicated resources and high-performance hosting environments.
In conclusion, Dedicated.com is a reliable hosting provider that offers an array of hosting services, including dedicated servers, VPS hosting, colocation services, and private cloud hosting. With their state-of-the-art data centers, robust security, and affordable pricing, they're an excellent choice for businesses that demand high-performance hosting solutions.
Conclusion
When it comes to investing in a dedicated server provider, Dedicated.com is definitely worth considering. With a commitment to providing exceptional service and support, Dedicated.com offers a range of flexible and customizable dedicated server plans to suit any website's traffic and performance needs. Whether you're a website owner or a business looking for reliable and secure hosting solutions, Dedicated.com has got you covered.
So, if you're ready to take your website to the next level with Dedicated.com's premium dedicated server hosting, head over to their website to explore their packages and start the process of securing your online presence today!
Reviews by experts
Summary
One of the most affordable web hosting companies on the entire market, according to Dedicated.com, takes great pride in this claim. And they do an excellent job of maintaining the veracity of that assertion. Dedicated.com will work well for you if you want to promote your brand by employing a reputable web hosting service.
Pros
Scalable solutions: Dedicated.com offers scalable solutions for high-volume enterprises that require optimal performance and strong security.
Virtual private servers (VPS): Dedicated.com provides VPS hosting options for businesses of all sizes.
Multiple data centers: Dedicated.com has six world-class data centers located in the United States and one in Canada.
Strong security: Dedicated.com provides top-notch security features for its servers, including DDoS protection and custom control panel for Synergy.
Versatile hosting options: Dedicated.com offers a range of hosting options, including dedicated servers and VPS, and supports a variety of operating systems, including Linux and Windows.
Cons
High prices: Dedicated.com charges high prices for its dedicated server plans, which may not be affordable for smaller businesses.
No free trial: Dedicated.com does not offer a free trial, which may be a disadvantage for those who want to test the service before committing.
No refunds: Dedicated.com does not offer any refunds, so users need to be confident in their decision before making a purchase.
No comments found.