FastComet Review Summary
| | |
| --- | --- |
| Global Performance Grade | Excellent |
| Uptime Guarantee | 99.99% |
| Free SSL | Yes |
| Hosting Types | Web Hosting, WordPress Hosting, WooCommerce Hosting, Magento Hosting, OpenCart Hosting, Cloud VPS Hosting, Dedicated CPU Servers |
| Basic Plan Features | Single Website, Free Website Transfer, Free Domain Transfer, cPanel & Softaculous, 15GB SSD Space |
| Starting Price | $2.49/mo |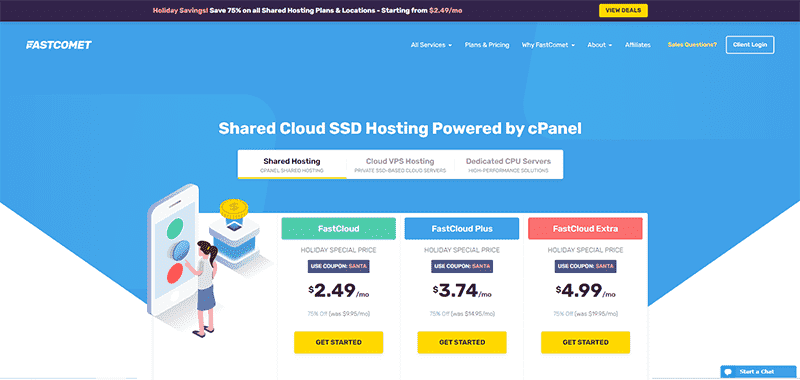 FastComet Shared Cloud SSD Hosting Powered by cPanel
About FastComet
FastComet was founded in 2013 and is a privately held, independently owned business. Their corporate office is in San Francisco, California. They dedicate themselves to their customers and have high standards for their projects with the intention of upholding integrity, respect, and information sharing.
They currently offer web hosting to more than 50,000 small businesses and websites, and they are always working to improve their offerings.
So, is FastComet really the premium hosting?
I was interested when I was invited to review FastComet. In spite of the fact that I once worked as a web developer, FastComet was one of the very few hosts I never had the opportunity to try out.
True, I probably might have lived a complete life without learning just how great FastComet is, but when the stars align so perfectly, how can you say no? I went on to create a brand-new account and test every feature of FastComet's services.
By the way, these options include the traditional trinity of shared, VPS (virtual private servers), and dedicated hosting. FastComet says that their performance will be "beyond your expectations" and that they are hosted in data centers located all over the world. Anyway, it's hard to meet my standards. I'm still looking for a strong service that is honest, dependable, quick, and reasonably priced. I can tell you right now that FastComet's service did impress me in several areas, which is how the host earned a spot on my list of the top hosting providers currently in operation.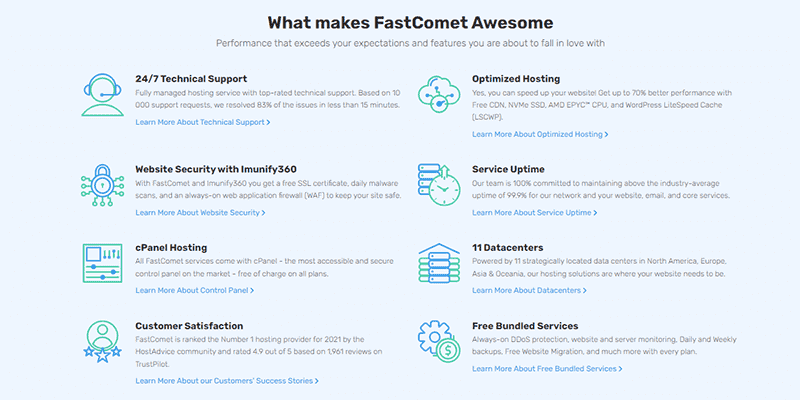 FastComet has many awesome features
FastComet – Features
Although I wouldn't call FastComet's shared hosting plans "feature-rich", we're nonetheless looking at some opulent options. No essential functions are hidden behind a barrier, and the free plan is adequate for one website.
FastCloud is the entry-level plan that I choose to sign up for. I'll put the responsibility on FastComet for giving you the impression that you're getting cloud-based hosting when you're not. Rather than the flexible cloud environments of the future, we are discussing basic shared server infrastructure.
However, that's quite alright, especially when you consider what the plans include. The base service offers 15GB of SSD storage space and 30GB of bandwidth, which is more than many other hosts currently provide.
Every plan is based on the tried-and-true cPanel control panel, which gives you quick and efficient hosting and website management. WordPress, Joomla, and hundreds of other CMS (content management systems) can all be quickly installed using the one-click Softaculous auto-installer application.
What about that adorable, anxiety-relieving padlock that everyone looks for in the address bar of their browser? That is an SSL certificate, which is something that every FastComet plan includes. It's simple to install and will work wonders for you, including helping you outrank competitors who don't use SSL and enabling you to perform online transactions.
Let me first vent my frustrations before moving on to the genuinely interesting information. Everything we've discussed so far is excellent, but FastComet falls short when it comes to web servers. FastComet is unable to provide the robust caching facilities that make hosting providers like Hostinger such speed powerhouses since it relies on the antiquated Apache technology rather than the more modern Nginx and LiteSpeed.
Tools that are helpful and a strong worldwide presence.
You can mess about with your server all you want, but if you want to serve your visitors well, you need to be nearby. Serving an Australian user from a data center in Los Angeles will probably result in extremely poor speeds, if not service timeouts.
The majority of hosting providers give you the option of two to three locations, which are often found in the Netherlands and on the east coast of the US. Some have a presence there as well. Let's introduce FastComet, which runs a staggering 11 data centers globally.
There are three in the United States and one in each of the following countries: Canada, the United Kingdom, the Netherlands, Germany, Japan, India, Singapore, and Australia. In essence, you'll be close to your target market, and they'll constantly be able to access your website.
A firewall called ModSecurity.
A firewall is a piece of software that, without going into too much technical detail, keeps the bad guys out while yet allowing your valued customers to freely access your website. With the widely used ModSecurity, FastComet has your back and has already completed all essential setups.
Don't forget to check that it is enabled for all domains in your cPanel after you log in!
FastComet – Ease of Use
A simple hosting experience depends on both a sleek, attractive design and sound design principles. Everything should act in a way that supports your intuition rather than fighting against it for a positive user experience (UX). FastComet built its own unique hosting interface and account section, but the UX isn't always up to par.
Creating a FastComet Account
Let's begin with the registration procedure. It won't take you more than a minute of browsing to figure out which plan is best for you because the benefits of the plans are clearly set out. You might become perplexed by the variety of hosting options offered (including Web, WordPress, WooCommerce, Magento, and more), but let me make it simple for you – they are all the same package. Simply pick whatever.
It appeared as though my hosting was operational after selecting my package and going through a standard signup process. However, in reality, not really. The account area was open to me, but my invoice was still outstanding.
What was the process for actually activating my account? It was silent, so I got in touch with assistance. I was informed by a representative that my money had really been refused for some reason before they accepted it and opened my account. He then requested that I give him a screenshot of my credit card charge in order to arrange a phone call.
Although this is a little bothersome, it all serves to prove that I'm a real person, so I shouldn't really be upset. I can only bemoan the fact that the success of the entire process hinged on my ability to comprehend the situation and take proactive steps to address it. A good platform at least offers some guidance.
WordPress installation and domain connection.
It was time to link my domain, which was registered with Namecheap, a fantastic, reasonably priced domain registrar, after successfully completing the verification and official activation processes. I required the nameservers for FastComet to accomplish that. Finding them proved to be considerably more difficult than I had anticipated.
It takes roughly four seconds to copy and paste them into the domain management panel because they are often listed in your primary account area. However, not with FastComet, sadly. I clicked Products, reviewed the specifics of my hosting package, browsed all the pages and all the accessible information, but I was unable to find even the tiniest reference of nameservers.
As a whole? The FastComet user interface is attractive to look at, typically functional, and occasionally annoying. Oddly enough, despite that, it is still simpler to use than a lot of other services, some of which take a week to activate and others that are downright difficult to use.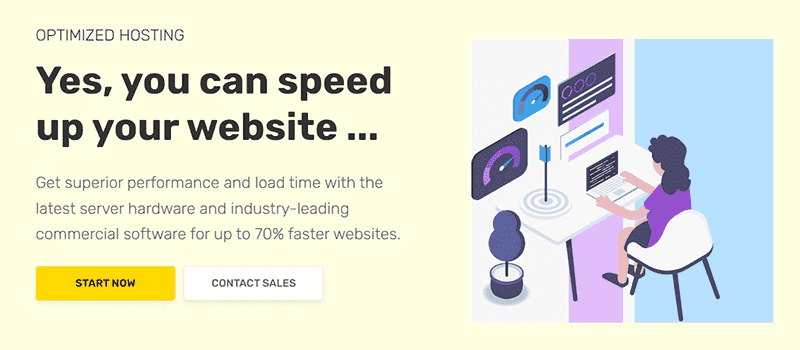 Speed up your website easily when using services at FastComet
FastComet – Performance
Not to boast, but the in-depth testing we conduct at Website Planet are likely the most thorough ones carried out today. If you're pressed for time, let me quickly summarize what I tested, how I conducted the test, and what the results were before I don my geek helmet.
In my situation, the data center was in the US, and the typical loading times there were good to medium, 1.85s. Not the worst or the best I've seen. Even with a CDN functioning, global loading speeds farther distant are considerably slower. Less than the guaranteed 99.9% uptime, or 99.882%, is being tracked over a two-month period.
All of this demonstrates that FastComet isn't a particularly strong performer. It's also not a poor one. It's still your best bet for these regions because it's essentially the only low-cost host with locations in India, Oceania, and East Asia. You'd probably do better with Hostinger or InterServer for the US and Europe.
You are welcome to read the complete results and test methodology or to skip directly to the support part to learn how I interacted with agents and was generally satisfied.
I used the Dallas, Texas data center of FastComet to host my test website. It's a landing page that closely resembles your website, complete with HD graphics, content, a contact form, and some animations. Any of these tests can be repeated again by going to the following URL; if you do, please share any interesting findings!
Like usual, I sought assistance with optimizations from FastComet's support before beginning my experiments. The agent installed some performance plugins, updated my PHP, and optimized the database.
I used GTmetrix PRO, the Sucuri Load Time Tester, and Uptime Robot's Pro plan to test my website when he was done making adjustments. To gauge performance and optimization scores in the US, I choose the closest GTmetrix testing server, which is also situated in Dallas, Texas. I utilized UptimeRobot to monitor the uptime of my website and Sucuri to gather insights on overall performance.
FastComet – Support
We'll discuss why FastComet isn't the cheapest in the following section, but for the time being, let's concentrate on one of the primary things you'll pay for: rock-solid support. It is practical, reachable, and accessible 24/7/365 by live chat, tickets, phone, and email. Additionally, there is a sizable knowledge base and several step-by-step lessons that even a total novice can use to advance from zero to hero.
Why did I use the word "real"? Because even while many ad servers promise round-the-clock service, their duplicitous users frequently face surprises. It's not unusual to get a notification after signing up that reads, "Yes, we're available! Simply put, not right now. Depending on your luck, that "now" may be at one, five, or pretty much any time.
I can always speak with a real agent on FastComet in under a minute. Always. The crew was prepared to address all of my inquiries even before I signed up. Furthermore, they do so with a degree of openness and sincerity that surprises me. With the exception of that one instance, I was quite pleased with the help I received from FastComet, and as a result, I gave it the second-highest support rating of all the international hosts I tested.
FastComet – Pricing
FastComet's pricing is extremely interesting because they love promotions so much. Whether it's the winter solstice or the coronavirus pandemic, they frequently offer incredible deals. When that occurs, you might be able to negotiate a deal that will make you feel like a really astute businessperson.
I was pleased to see that all orders are covered by a 45-day money-back guarantee, which is 50% longer than the industry standard of one month. Payment is made via credit card or PayPal.
Let's check the price here: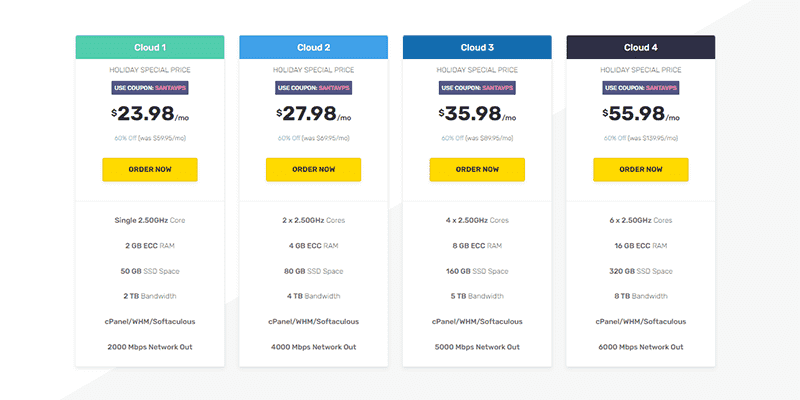 Fully Managed SSD Cloud VPS at Fastcomet
Bottom Line
Overall, FastComet is a fantastic host, but if you're still not sure, let me help. Don't pick a local hosting business if you wish to host in India, Japan, Australia, or Singapore but are neither a resident or a native speaker (Australian servers won't, anyway). enables you to sign up. FastComet, which offers affordable prices, or Kinsta, a premium host that costs around ten times as much, are your two primary options.
Contact us if you need anything!
Reviews by experts
Summary
Recognize your price range and use it to guide your decisions. FastComet will serve you right away thanks to its excellent assistance, suitable features, and, most importantly, its suitable performance.
Pros
Pretty good server speed
Personal support, fast
45-day money-back guarantee
Free daily backup
Free Cloudflare CDN
Free website and domain transfer
Multiple data center locations globally
Cons
Service renewal price is relatively high
Domain names are not free
No comments found.