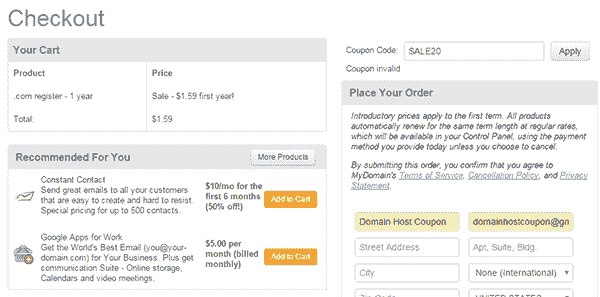 Today, after a long time, the trio MyDomain, Dotster and Netfirms continued launching terrorist promotional, discount domain name registration .COM and .NET only $1.59 only.

This program is still MyDomain, Dotster and Netfirms same bulk discount. These are all subsidiaries of the group eig.
.COM And .NET domain names at the same price of $1.99/ year at 3 suppliers. Registration is only 1 year, unlimited number!
When paying in Mydomain Coupon and Dotster, please use coupon SALE20 to be reduced by 20%, cost only $1.59/ year. Particularly with Netfirms JAN17 coupon you use to be reduced by 18% – the price was $1.63. Of course, should be prioritized in order MYDOMAIN and Dotster!
Unfortunately, this program does not apply to TRANSFER!
Payment is via PayPal or Visa/ Master. Should not have to pay with PayPal confirmation verify card information.
If you do not already have an account with this provider 3, refer to the tutorials in the mydomain domain registrar, Dotster, Netfirms.
Obviously you should be preferred supplier to renew the cheapest price, to save money later again.
When having problems refuse payment or fraud detectors please contact LiveChat for help. Old account will register easily, more quickly.